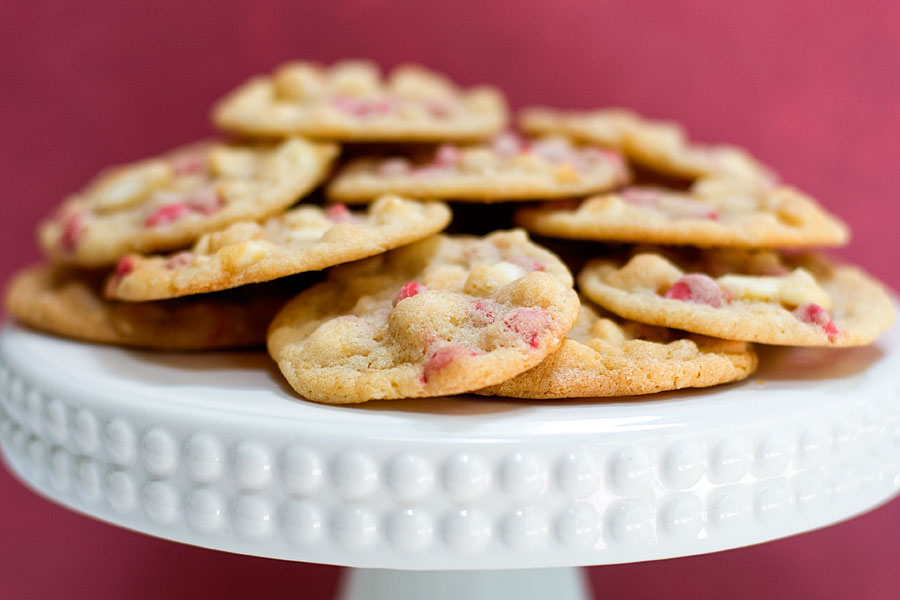 Have any of you ever been to Door County Wisconsin? Anyone? Well if you think of the state of Wisconsin as looking like a hand, Door County is the "thumb." It's a wonderful vacation spot – relaxing, slow-paced, full of cherries and all-things Scandinavia. My family has been visiting Door County for the past 30+ years and it's one of my favorite places in the world.
As is the case with most tourist destinations, Door County has a "theme." Cherries are e-v-e-r-y-w-h-e-r-e. Cherry pie. Cherry pancakes. Cherry margaritas. Cherry cookies. Cherry danish. Chocolate-covered cherries. Gummy cherries. You get the point.
I wanted to make a batch of Door County-inspired cookies. I LOVED these cookies though next time I'd love to try them with real dried cherries instead of cherry chips.
Door County Cherry Cookies
Recipe source: Taste of Home
Print Recipe
1 cup butter, softened
3/4 cup sugar
3/4 cup brown sugar, packed
2 eggs
1 teaspoon vanilla
2-1/4 cups flour
1 teaspoon baking soda
1-2/3 cups white chocolate chunks/chips
1-1/2 cups dried Door County cherries [I used cherry chips because I didn't have any dried cherries, sadly!]
1 cup cashews or macadamia nuts, chopped
1. Preheat oven 350F.
2. Combine butter, sugars, eggs and vanilla; beat thoroughly. Add flour and baking soda gradually to butter mixture.
3. Stir in chocolate, cherries, and nuts.
4. Drop onto ungreased baking sheets. Bake until golden – about 10 minutes. Cool on wire racks.