So this is my first blog entry ever! To start my foray into the blogosphere right, I took out a little insurance. This recipe is an adaptation from a post I found from www.visionsofsugarplum.com. This recipe is originally from the winner of the 43rd Pillsbury Bake off and the original recipe can be found here. Since my hubby loves peanut butter, I knew I had to try it. It is slightly more work than a drop cookie, but my coworkers think it is well worth the effort! Two quick notes though: 1) I found the filling dry so I added a little softened butter to force it to behave better and 2) I didn't have to grease my pans, which is great because I hate that for some reason…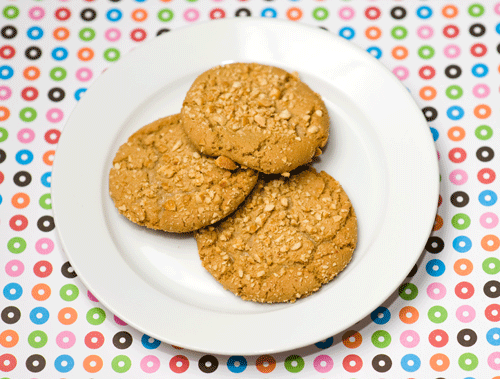 Double Delight Peanut Butter Honey Cookies
Print Recipe
Dough

1/4 cup butter
1/3 cup peanut butter
1/2 cup granulated sugar
1/2 cup light brown sugar
2 Tbsp honey
1 egg
1 Tbsp vanilla extract
1/2 tsp salt
3/4 tsp baking soda
1 1/4 cup flour
Cream the first 5 ingredients until combined. Beat in  egg, salt and vanilla. Sift in remaining ingedients and mix on low until incorporated. Chill ~ 20 minutes.
Filling (make while dough chills):
1/2 cup powdered sugar
1/2 cup peanut butter
2 Tbsp. honey
2 Tbsp. butter, softened
Topping
1 cup honey-roasted peanuts,coarsely chopped
Preheat oven to 375 oF. Measure out a scant teaspoon of filling and roll into a ball. Repeat for rest of filling. To form cookies, measure out 1 tablespoon dough and flatten in your palm. Wrap dough around filling and squeeze gently to form it into a disk. Continue until all the dough is used up.
Press into peanuts and place on baking sheet. Bake 13-15 minutes until edges turn golden brown. Let rest on pan until firm and transfer to a cooling rack.
Cookies will look puffy and be very soft to the touch but don't let them fool you- if they are browning, they are done!