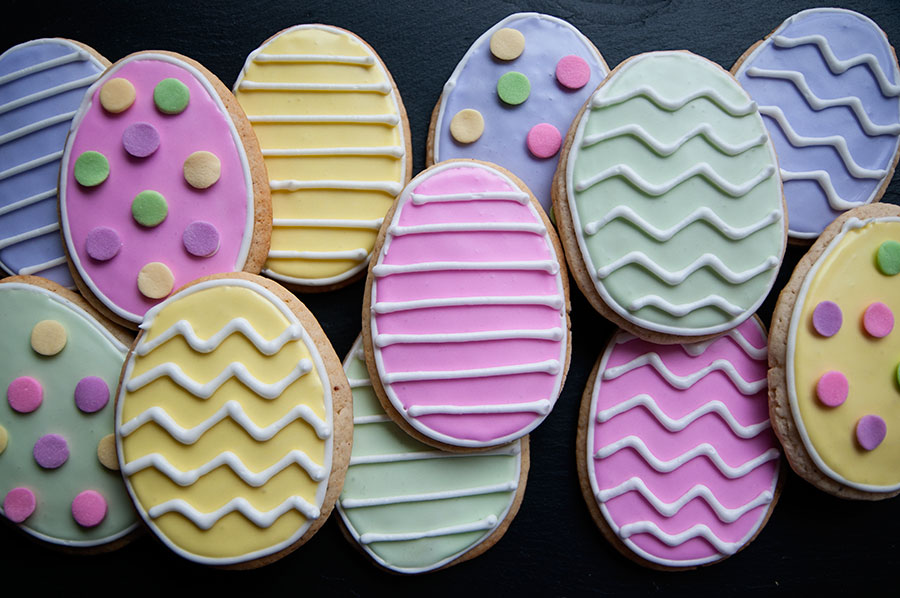 Here's the last post of Easter sugar cookies! I wanted to do something simple, traditional, and full of nauseating pastels.  I'm not usually a fan of pastel colors, but let me tell you, after enduring one of the worst winters evahhhhhh I'm am totally embracing all things mint green, lavender, and bubble gum pink this spring! I stuck with pink, yellow, green, and purple for these cookies — because I think those are the most Easter-y.
If you are a new to decorating cookies with royal icing, here are some helpful tips and links:
I used my grandma's sugar cookie recipe, which is listed below.  Another good cut-out cookie recipe can be found at Bridget's wonderful Bake at 350.
I used a royal icing recipe from Annie's Eats, which is listed below.
If you are new to decorating with royal icing, please visit this post by Annie's Eats, which will teach you about outlining and flooding.  Bake at 350 is also a great resource for cookie decorating and ideas (I love Bridget's book, too!).
Here are the specifics on how I made these cookies:
The egg-shaped cookie cutter is a Wilton comfort-grip cutter. I bought mind on Amazon, but I know that hobby stores like Michael's or Hobby Lobby carry them.
I dyed the icing with Wilton's gel colorings. To get the pastels, only use a little bit! Like, a little bit on a toothpick. A little will go a long way — especially with the pink.
I outlined the cookies with white icing and flooded them with the various colors.
After the flooded icing dried, I piped stripes or chevrons onto the cookies — or placed large sprinkles to serve as polka dots. The dots are a Wilton product that I found at Hobby Lobby.
I used the recipe below for the sugar cookies — and it will make quite a few cookies, so you may want to cut the recipe in half.  Or not.  Depends on how many cookies you want!
On a related note, it's hard to tell you how many cookies you'll get out of the batch of dough.  It depends on the size of the cookie cutter you use.  But it's safe to say that you'll get at least 2 or 3 dozen Easter egg cookies out of the recipe listed below.
Omi's Sugar Cookies
Print Recipe
1 cup butter
1 cup sugar
1 large egg
1/2 teaspoon salt
3 cups flour
1 teaspoon baking soda
1/2 cup sour cream
1 teaspoon nutmeg
Beat butter and sugar. Add eggs, sour cream, and nutmeg. Add dry ingredients gradually. Chill the batter overnight or for at least 4 hours. Roll out dough and cut with cookie cutters. Bake at 350F until golden (in true fashion, my grandma didn't give a specific baking time. I baked the cookies for about 8 minutes).

White Royal Icing
4 cups powdered sugar, sifted
2 Tablespoons meringue powder
5 Tablespoons water
Directions:
Combine all ingredients in the bowl of a stand mixer fitted with the paddle attachment. Mix on low speed until the sheen has disappeared and the icing has a matte appearance (about 7-10 minutes).  Transfer the contents of the mixing bowl to an air-tight container. This will be the stiffest consistency of the icing, and at this point it is still too stiff to use for decorating. Add water a very small amount at a time and stir by hand until fully incorporated. Continue until the icing has reached a consistency appropriate for piping.