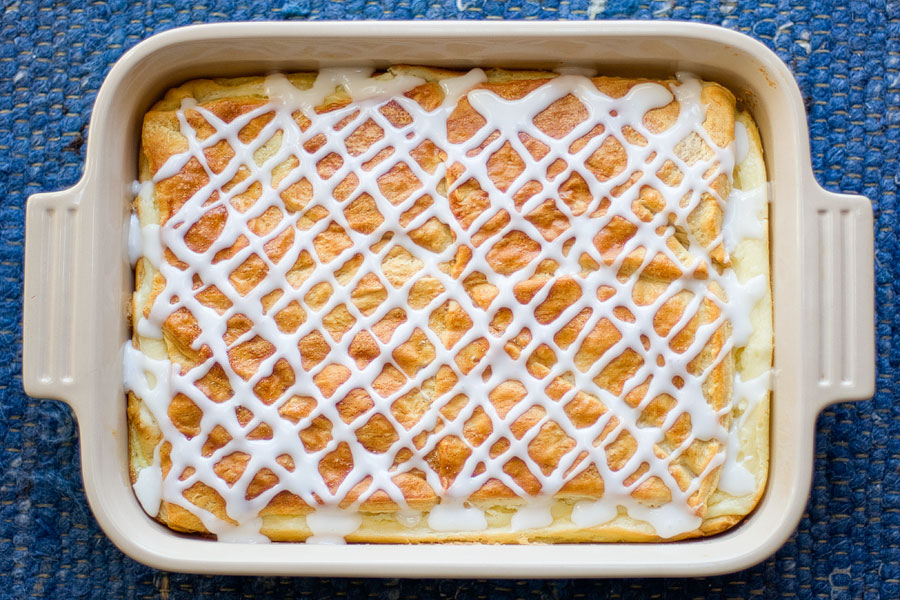 One of my all-time favorite foods comes from a bakery in Appleton, Wisconsin called Vande Walle's. They make the most perfect and out-of-this-world delicious cheese coffee cake. I usually only eat it at holidays — and I eat it without abandon. My brain cannot say "stop eating! calorie overload!" when it comes to a Vande Walle's cheese coffee cake. One day while browsing Pinterest, I found a recipe for a cheese coffee cake. The recipe promised to be easy and full of cheese filling. Sold! The end result wasn't a replica of the Vande Walle's version, but the flavors were similar and it's a great substitute for me to make when I'm in Milwaukee and far away from Appleton. Or when I'm aiming to consume 4,397 calories in one sitting.
Easy Cheese Coffee Cake
Recipe source: The Adventures of Kitchen Girl
Print Recipe
2 cans ready to use refrigerated crescent rolls
2 8-ounce packages cream cheese
1 cup sugar
1 teaspoon vanilla extract
1 egg
1 egg white
Glaze:
1/2 cup powdered sugar
2 Tablespoons milk
1/2 teaspoon vanilla extract
1. Preheat oven to 350F degrees and grease a 9×13-inch baking pan.
2. Lay a pack of crescent rolls in the pan and pinch the openings together.
3. Beat the cream cheese, sugar, vanilla, and egg together until smooth. Spread the mixture over the crescent rolls evenly and then lay the second pack of crescent rolls on top of the cheese mixture and brush with egg white.
4. Bake for 35-45 minutes until the top is golden brown. Top with glaze after cooling for 20 minutes.
Notes:
The amount of filling that the recipe will produce is enormous. If you prefer a less-heavily filled coffee cake, cut the filling ingredients in half and cut the baking time down to 30-35 minutes. Also, I used far more powdered sugar for the glaze than the recipe called for — simply because I preferred a thicker icing that I could pipe. Do what you like!