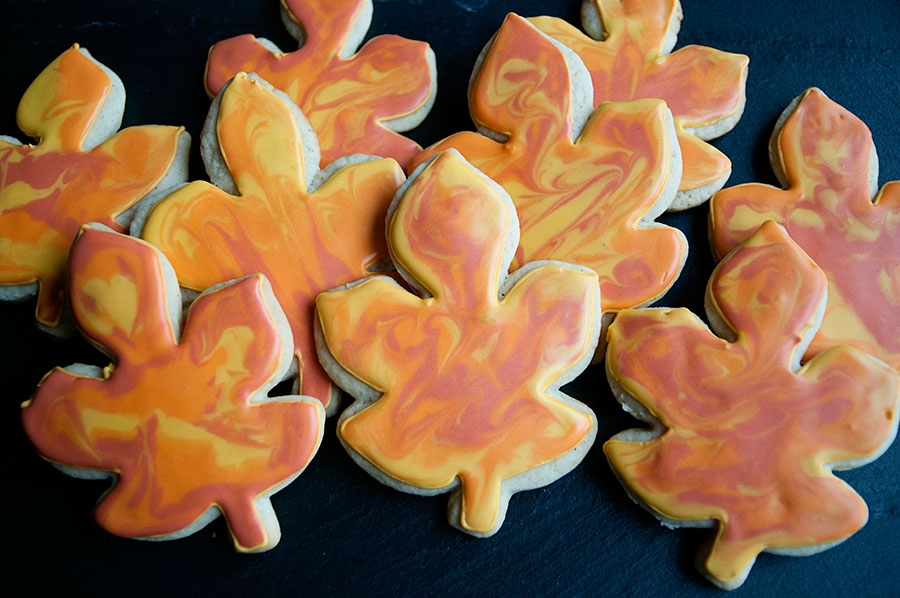 Sadly, the beautiful fall colors in Milwaukee have peaked. The leaves are starting to fall of the trees and the colors are starting to dull. I think October is the prettiest month of the year and I'm always sad when it comes to an end. In an effort to cling to fall a little bit longer, I made these cookies. My friend Andrea made similar cookies a few weeks ago and I fell in love — who knew that swirling different colors together would be so easy and produce such a pretty result? You can use any colors you'd like!
If you are a new to decorating with royal icing, here are some helpful tips and links:
I used my grandma's sugar cookie recipe, which is listed below.  Another good cut-out cookie recipe can be found at Bridget's wonderful Bake at 350.
I used a royal icing recipe from Annie's Eats, which is listed below.
If you are new to decorating with royal icing, please visit this post by Annie's Eats, which will teach you about outlining and flooding.  Bake at 350 is also a great resource for cookie decorating and ideas (I love Bridget's book, too!).
Here are the specifics on how I made these cookies:
I used a leaf cookie cutter from Wilton. The one I used is from their comfort grip line
I used three colors for the icing — all Wilton gel dyes: buttercup yellow, orange, and copper. You can use any fall colors you'd like — reds, oranges, yellows, browns, and greens!
I would recommend making two batches of royal icing — you won't be able to cover all the cookies with just one.
Once you have all of your icing made, divide it into three bowls — use your gel dyes to color the icing.
I outlined my cookies with yellow icing, but you can use any color you'd like.
Once the outlines have set and you've thinned your icing and filled the plastic squeeze bottles (if you are lost at this point, see the links above!), squeeze the different colors of icing onto your cookies. Use a toothpick to swirl the different colors together.
There is no perfect way to do this — experiment and see what technique you like best!
Omi's Sugar Cookies
Print Recipe
1 cup butter
1 cup sugar
1 large egg
1/2 teaspoon salt
3 cups flour
1 teaspoon baking soda
1/2 cup sour cream
1 teaspoon nutmeg
Beat butter and sugar. Add eggs, sour cream, and nutmeg. Add dry ingredients gradually. Chill the batter overnight or for at least 4 hours. Roll out dough and cut with cookie cutters. Bake at 350F until golden (in true fashion, my grandma didn't give a specific baking time. I baked the cookies for about 8 minutes).

White Royal Icing
4 cups powdered sugar, sifted
2 Tablespoons meringue powder
5 Tablespoons water
Directions:
Combine all ingredients in the bowl of a stand mixer fitted with the paddle attachment. Mix on low speed until the sheen has disappeared and the icing has a matte appearance (about 7-10 minutes).  Transfer the contents of the mixing bowl to an air-tight container. This will be the stiffest consistency of the icing, and at this point it is still too stiff to use for decorating. Add water a very small amount at a time and stir by hand until fully incorporated. Continue until the icing has reached a consistency appropriate for piping.
*I made two batches for this project.