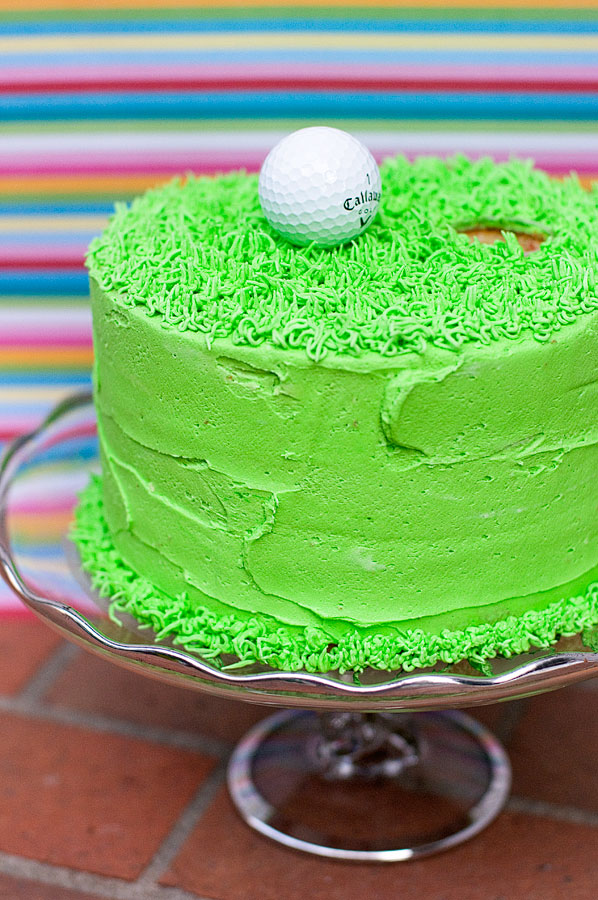 Happy almost-Father's Day! My Dad loves golf more than most things on this earth, so I decided to make him golf in cake form. My Dad (and his side of the family) is where I get my love of food and cooking/baking from. He's the one that receives my requests for home-cooked meals (my mom can barely boil water without incident)… he's always first one in line to buy the latest and greatest products at the grocery store… he works in the food biz and has zero tolerance for bad food… and he's the one who has taught me everything I know about the world of food (and what a wonderful world it is). I've learned many things from my Dad: Le Creuset cookware really does make a difference, the more expensive cuts of meat really are worth it, and if possible, get a glimpse at a restaurant's kitchen (and if it's a hot mess, turn around and leave). But most of all I learned to cook and feed people with love.
So here's to all the great fathers out there. Enjoy your day!
And to my Dad, thanks for doing all of the holiday cooking at our house (if you hadn't, our Thanksgiving, Christmas, and Easter meals would be pizza); thanks for making me hamburgers and blue jello as a kid; thanks for making me an Easter bunny cake out of coconut, chocolate chips, and Chiclets; and because of you, I will always associate the smell of a home-cooked meal with love and good humor. Love you!
Father's Day Golf Cake
Print Recipe
2 boxes cake mix (I made a three-layer cake, so I needed two boxes; if you want a two-layer cake, 1 box will be fine)
[plus required oil and eggs for box mix]
1 stick unsalted butter
1 stick salted butter
1 stick Crisco
2 pounds powdered sugar
1 Tablespoon vanilla
4-6 Tablespoons milk
Green food coloring (I used Wilton's gel coloring in Leaf Green)
1 grass piping tip (I used Wilton's #233 tip)
1 shot glass
1 golf ball
1. Bake three 8″ cakes according to box directions. Allow to cool completely.
2. Make a batch of green buttercream icing. Cream the butters and shortening together. Slowly add the powdered sugar until well-mixed. Add the vanilla and mix. Add milk until you reach a desired consistency. Add small amounts of green coloring until you reach a nice, pretty grass green.
3. Assemble the cakes and spread a thin layer of frosting between each cake. Frost the entire cake with green frosting. Cut a out a small circle of cake and insert the shot glass into the cake. The shot glass isn't absolutely necessary, but I found it helped to keep the inside of the cake from getting stale.
4. Using the grass tip, pipe "grass" around the bottom of the cake as a border, as well as on the top of the cake. Place a golf ball near the hole and you're finished!

[My Dad's family used to own a potato chip factory and potato chips remain one of my all-time favorite foods; the aforementioned bunny cake.. along with me sporting a stylin' pink sweater vest and glasses; my Dad and I in New York last summer; also, my big secret is now out… I'm not a natural blonde!]