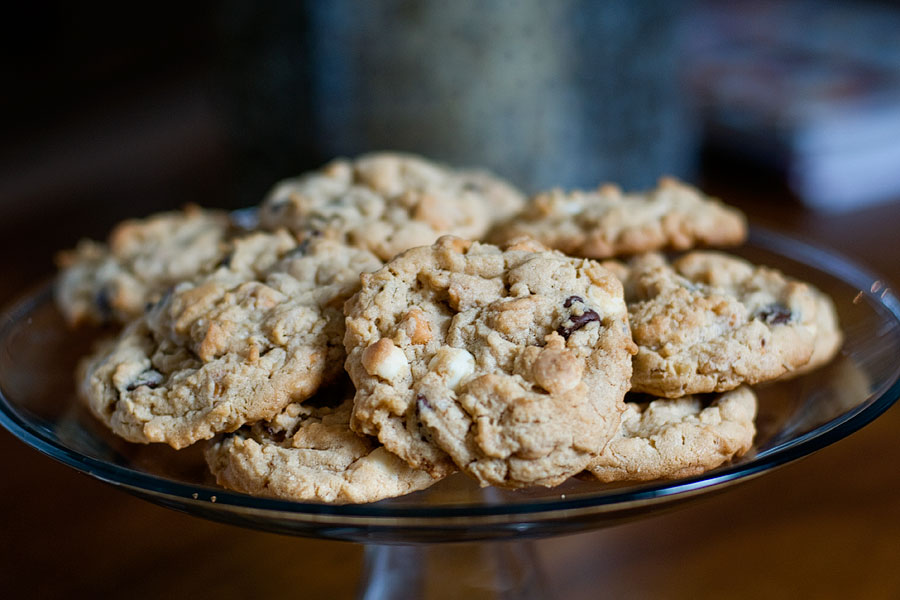 I love simple cookies. There is nothing better than a good chocolate chip cookie, especially if it's warm and right out of the oven. I saw this recipe and noticed that it called for five different kinds of chips, peanut butter, AND oats. I thought it might be too much — especially the oats part, as I've never been a huge fan of oatmeal cookies. But these cookies were amazing. Such a rich combination of flavors — with a touch of salt. The oats added more texture than taste and the peanut butter wasn't overpowering. A lot of fancy talk about cookies, right? But trust me. Make these. They are SO SIMPLE and have been added to my all-time favorites list.
Five Chip Cookies
Recipe source: Taste of Home
Print Recipe
1 cup butter, softened
1 cup peanut butter
1 cup sugar
2/3 cup packed brown sugar
2 eggs
1 teaspoons vanilla extract
2 cups all-purpose flour
1 cup old-fashioned oats
2 teaspoons baking soda
1/2 teaspoon salt
2/3 cup each milk chocolate chips, semisweet chocolate chips, peanut butter chips, white chocolate chips, and butterscotch chips
1. Preheat oven to 350F and line baking sheets with parchment paper.
2. In a large bowl, cream the butter, peanut butter, and sugars until light and fluffy. Add eggs, one at a time, beating well after each addition. Beat in vanilla.
3. Combine the flour, oats, baking soda, and salt; gradually add to the creamed mixture and mix well. Stir in chips.
4. Drop by rounded Tablespoonfuls 2 inches apart on baking sheets. Bake at 350F for 10-12 minutes or until lightly browned. Cool a few minutes, then remove to wire racks.
Makes about 4 dozen cookies.