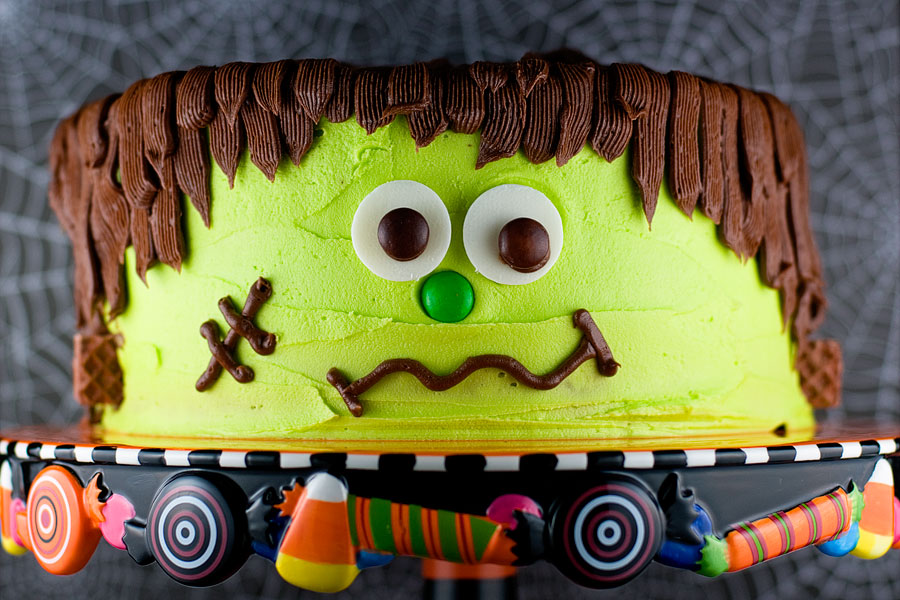 It's a FrankenCake! I'll be posting a lot of Halloween treats this week and I'm starting with this cake. I saw it on Pinterest and knew that I had to give it a try. I mean, really. How adorable, right? And the cake turned out to be pretty easy, which is always a plus.
FrankenCake
Inspired by: Bird on a Cake
Print Recipe
You will need:
Two 8-inch cakes [I made chocolate cake from a box mix]
A batch of buttercream icing
Green food coloring [I used AmeriColor's electric green]
2 tubs of store-bought chocolate frosting [I never have cocoa on hand to make chocolate buttercream!]
A green M&M for the nose
2 white candy melts for the eyes
2 brown M&Ms for the eyes
2 chocolate wafer cookies for the bolts
Wilton tip #47 for the hair, and a small round tip for the scar and smile
1. Bake your 8-inch cakes according to box directions and allow them to cool completely.
2. Make a batch of buttercream icing and dye it green.
3. Assemble and frost the cake with the green icing.
4. Fit a pastry bag with the #47 tip and fill with chocolate icing. Pipe strips of "hair" onto the head of Frankenstein's monster. No need to be perfect with this — the hair is supposed to look messy!
5. Stick the chocolate wafer cookies into the side of his head, the green M&M on the face, and the white candy melts/brown M&Ms for the eyes. I "glued" the brown M&Ms to the white candy melts using icing.
6. Pipe a scar and smile using a small round pastry tip.
That's it!