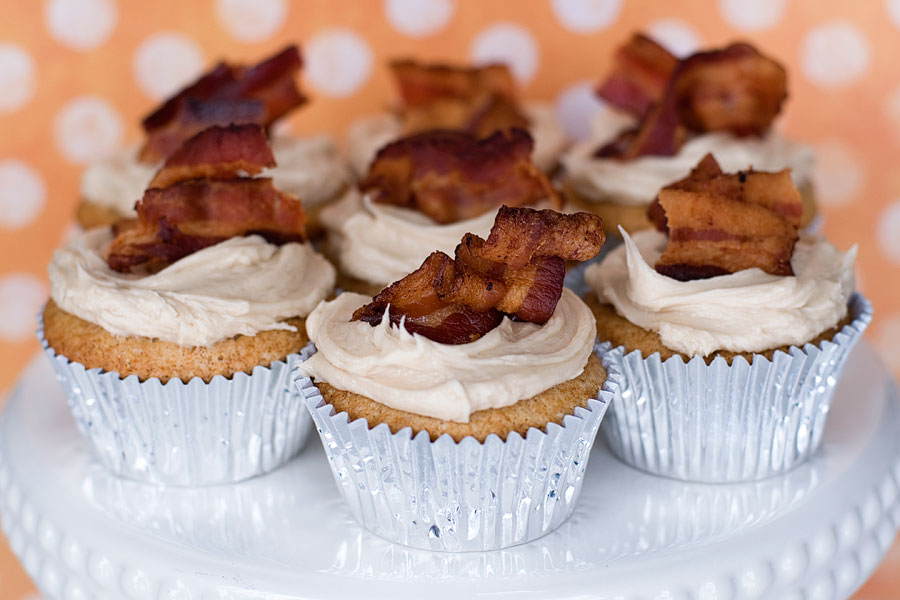 Happy 2013, everyone! Most blogs are starting to post recipes with lighter, healthier foods. Nah. Not this blog. French toast cupcakes are up next! French toast is my all-time favorite breakfast food. What's not to like? It's a carbohydrate overload that can keep you full the entire day. Perfection. I've wanted to make this recipe for a while and decided to try it when I was home over winter break — so my Dad could cook the bacon for me. He's got a knack for producing perfect, crispy bacon. And the crispier the bacon the better for these cupcakes.
French Toast and Bacon Cupcakes
Recipe source: The Busty Baker
Print Recipe
1-1/2 cups all-purpose flour
1-1/2 teaspoons baking powder
1/2 teaspoon ground cinnamon
1/4 teaspoon salt
1 cup sugar
1/2 cup unsalted butter, melted and then cooled
2 eggs
1 teaspoon maple extract
1/2 cup milk
10-12 slices bacon
1. Preheat oven to 350F and line baking pan with paper liners.
2. Cook bacon in batches by prefered method until browned, but still slightly flexible. Soak up any extra oil on paper towels and set aside to cool. Once bacon is cooled enough to handle, cut a couple slices of bacon into inch-long pieces. This will be the decoration on top of the cupcake, so make as many as you think you'll need. Set aside. Chop or tear the remaining bacon into tiny pieces. Set aside. [I used REALLY crispy bacon, as I found it was easier to tear and just tastes better with the icing]
3. In a small bowl, mix together flour, baking powder, cinnamon and salt.
4. In a large bowl, whisk together butter, sugar and eggs until smooth. Whisk in maple extract. Alternately whisk in flour mixture and milk, making three additions of flour mix and two of milk, beating until smooth. Fold in small bacon pieces. Mix until evenly distributed throughout batter. [I did not add the bacon directly into the batter; feel free to omit this step, the cupcakes still turned out great!]
5. Scoop batter into prepared pan and bake 20-25 minutes until golden brown and tops spring back when lightly touched. Let cool in pan on a rack for 10 minutes, then remove from pan and cool completely.
Maple Buttercream
2 cups confectioner's sugar
3/4 cup unsalted butter, at room temperature
2 tablespoons maple syrup
1/2 teaspoon maple extract
Pinch of salt
1. In a bowl with an electric mixer, beat butter until light and fluffy. Add maple syrup, maple extract, and salt, and beat until well combined. Add confectioner's sugar, half cup at a time, and beat until smooth and fluffy, about 5 minutes.
2. Frost or pipe onto cooled cupcakes. Top with inch-long bacon pieces.