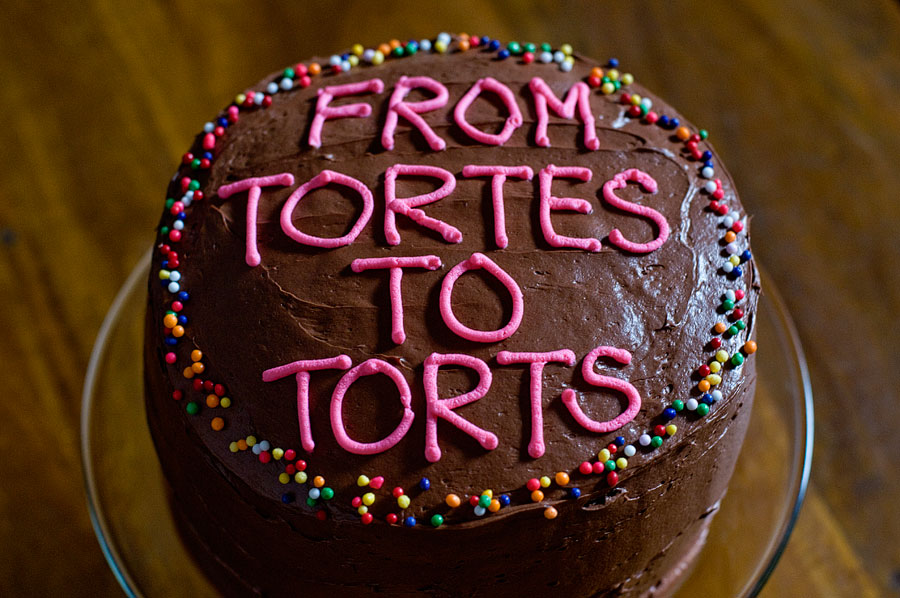 You know you're a bit of a geek when you pair baking and law together to make something tasty. As I may have mentioned before, I started law school back in August. Law school is INTENSE and finals are rapidly approaching, so I will be taking a little hiatus from this blog! I hope to make a few Christmas-related treats after finals finish, but I make no promises.
Wikipedia defines a torte as "a rich, multilayered cake that is filled with buttercreams, mousses, jams, or fruits" and a tort as "a civil wrong." I combined the two for today's post!
Because I've been consumed with learning about torts (negligence and battery and assault, oh my!), I went the semi-homemade route for this torte. I just don't have the time or energy to go full-blown homemade. The cake layers are from a box mix but the frosting is homemade chocolate buttercream. Hope you all had a great Thanksgiving and I'll be back in December!
12-Layer Torte
Print Recipe
For the cake…
2 boxes yellow cake mix
2 cups water
1 cup vegetable oil
8 eggs
2 instant vanilla pudding mixes
12 8″ pie tins (I used the cheap disposable ones from the grocery store – so much easier!)
1. Preheat oven to 350F.
2. Combine all of the ingredients and mix with an electric mixer until smooth.
3. Spray your disposable pie tins with non-stick spray.
4. Scoop 1/2 cup of batter into each pan and spread out evenly with a knife.
5. Bake each cake (I was able to fit four into my oven at once) for 12-14 minutes. Something to note: because these cakes are THIN, watch them carefully! Oven temperatures may be off, your oven may have hotspots, etc — so watch the cakes to be sure they don't burn.
6. Remove from oven and allow to cool on wire racks. Repeat the process above until you have 12 thin cakes.
For the chocolate frosting…
Recipe source: Savory Sweet Life
* Note! I made two batches of this frosting, just to be sure I'd have enough to cover the entire cake and all of its layers. I ended up with plenty of extra frosting. You could make a single batch to start with to see how it goes – but be prepared that you may need to make two batches.
1 cup unsalted butter, softened
3-1/2 cups powdered sugar
1/2 cup cocoa powder
1/2 teaspoon salt
2 teaspoons vanilla extract
4 Tablespoons milk or heavy cream
1. Cream butter in a mixer with the paddle attachment on medium speed. Turn off the mixer. Sift 3 cups powdered sugar and cocoa into the mixing bowl. Turn your mixer on the lowest speed (so the dry ingredients do not blow everywhere) until the sugar and cocoa are absorbed by the butter. Increase mixer speed to medium and add vanilla extract, salt, and milk/cream and beat for 3 minutes. If your frosting needs a more stiff consistency, add a little more sugar. If your frosting needs to be thinned out, add additional milk 1 tablespoon at a time.
2. Stack your cake layers, spreading a thin layer of chocolate frosting between each layer. Once you've stacked all 12 layers, frost the outside of the torte and decorate as you please. Here's what it looked like before frosting the outside: