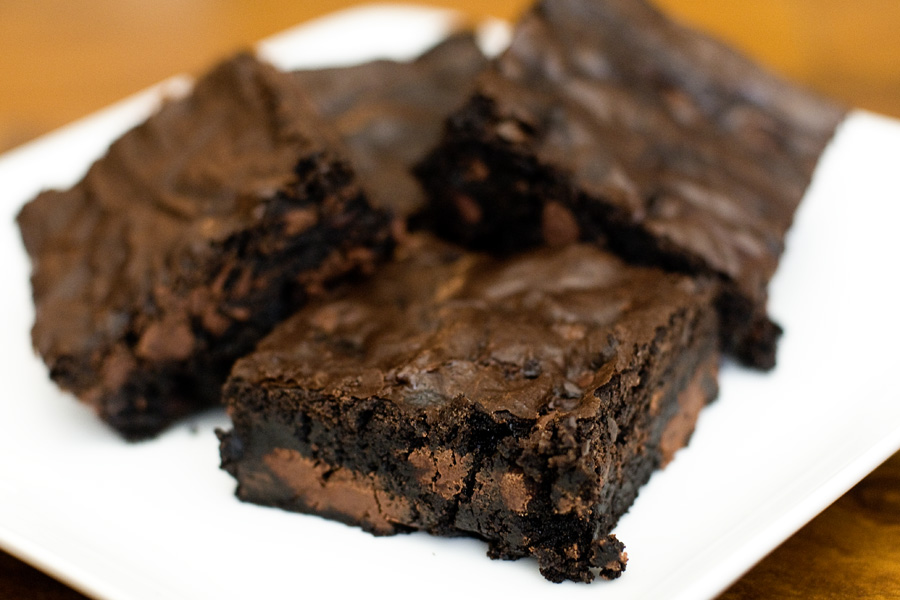 Oh heaven. This recipe was highly recommended by my friend Jen, so I just had to try! She was right – these are to-die-for!
Yield: About 24 brownies
Fudge Brownies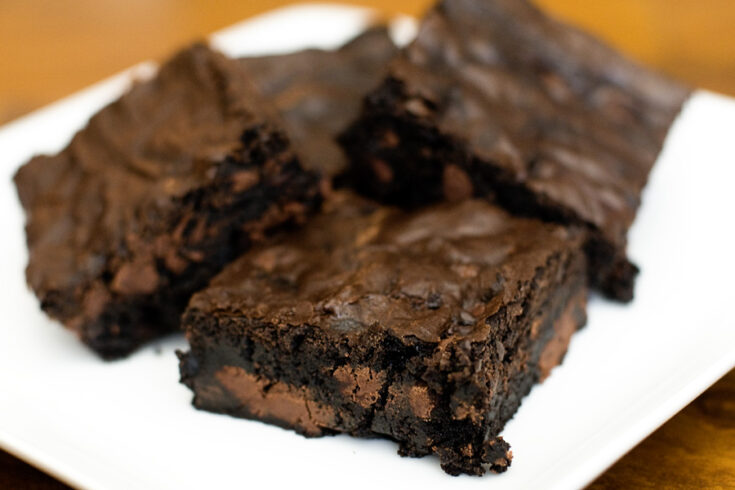 These are CLASSIC brownies!
Total Time
1 hour
10 minutes
Ingredients
1 cup (2 sticks) unsalted butter
2 1/4 cups sugar
4 large eggs
1-1/4 cups double-Dutch dark cocoa or Dutch-process cocoa
1 teaspoon salt
1 teaspoon baking powder
1 teaspoon espresso powder (I didn't' have this ingredient, so I left it out)
1 Tablespoon vanilla extract
1-1/2 cups all-purpose flour
2 cups chocolate chips
Instructions
1. Preheat oven to 350F and grease a 9×13″ pan.

2. In a medium-sized microwave-safe bowl, or in a saucepan set over low heat, melt the butter, then add the sugar and stir to combine. Return the mixture to the heat (or microwave) briefly, just until it's hot but not bubbling; it'll become shiny looking as you stir it. Heating this mixture a second time will dissolve more of the sugar, which will yield a shiny top crust on your brownies.

3. While the sugar heats a second time, crack the 4 eggs into a bowl, and beat them with the cocoa, salt, baking powder, espresso powder, and vanilla until smooth.

4. Add the hot butter/sugar mixture, stirring until smooth.

5. Add the flour and chips, again stirring until smooth. Note: if you want the chips to remain intact in the baked brownies, rather than melting in, let the batter cool in the bowl for about 20 minutes before stirring in the chips.

6. Spoon the batter into the greased pan and bake for about 30 minutes, or until a tester comes out clean. The brownies should feel set on the edges, and the center should look very moist, but not uncooked. Remove them from the oven and cool on a rack before serving.
Notes
Your yield will depend on how big or small you cut your brownies.