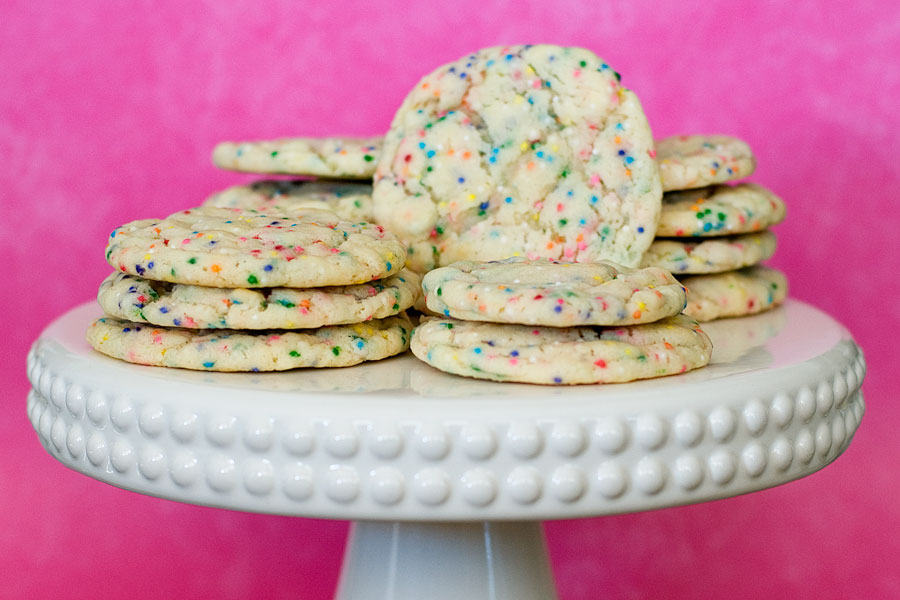 I am obsessed with sprinkles. This should be obvious, as I named this blog With Sprinkles on Top. Sprinkles are nothing more than little colored pellets of sugar — but they make everyone happy. Every kid wants sprinkles on their donut or ice cream cone, and for most of us, this lingers into adulthood. I found this great recipe for a simple sugar cookie on Sally's Baking Addition. Sidenote: she has some GREAT cookie recipes. It's one of my go-to blogs if I'm looking to try a new cookie. Check it out!
Funfetti Sugar Cookies
Recipe source: Sally's Baking Addition
Print Recipe
1/2 cup (1 stick) unsalted butter, at room temperature
3/4 cup sugar
1 large egg, at room temperature
1 teaspoon vanilla extract
1-1/2 cups all-purpose flour
1/4 teaspoon salt
1 teaspoon baking powder
1/2 teaspoon baking soda
1 teaspoon cream of tartar (can not be omitted)
1/2 cup sprinkles, plus more for sprinkle on top before baking
1. In a large bowl using a hand-held mixer or stand mixer with paddle attachment, cream the softened butter for about 1 minute on medium speed. Then add the sugar on medium speed until fluffy and light in color. Mix in egg and vanilla. Scrape down the sides as needed. Set aside.
2. In a medium size bowl, whisk together the flour, salt, baking powder, baking soda, and cream of tartar. With the mixer running on low speed, slowly add the dry ingredients to the wet ingredients in 3 different parts. The dough will be very thick. Once combined, fold in 1/2 cup sprinkles.
3. Scoop a large sections of dough (about 2 Tablespoons of dough each) and roll into balls. Make sure the balls are taller, rather than wide. Add a few more sprinkles on top of each ball dough.
4. Chill the balls of dough on the cookie sheet for at least 2 hours and up to 48 hours in the refrigerator. This step will prevent spreading in the oven.
5. Preheat oven to 350F. Line two large baking sheets with parchment paper. Bake chilled cookie dough for 8 minutes. The cookies will appear undone and very soft.
6. Allow the cookies to cool on the cookie sheets for 3 minutes and move to wire rack to cool completely.