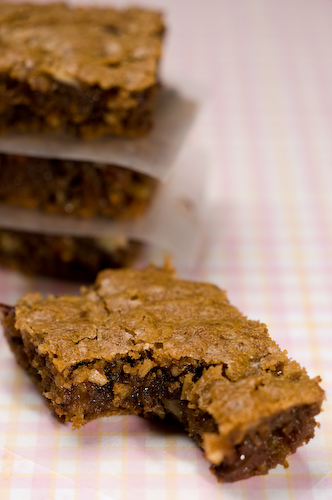 Like any religious experience, my coworkers and I treat  our afternoon coffee break with solemnity and  devotion. Our dedication frequently takes us to the local coffee shop which boasts a number of delectables for the sampling. One Sicilian coworker, Gabriella, has a certain fondness for the 'blondie brownie'. However, I am convinced Sasquatch makes more regular appearances than does the fabled 'blondie brownie'. Taking pity on her, I decided to sate her blondie lust with a version of this recipe. It comes from Dorie Greenspan's book Baking: from my home to yours, which was a great gift from a friend. She has a pretty cool blog worthy of occupying a slow afternoon so be sure to check it out (click here for the link).
Chewy, Chunky Blondies (adapted from Dorie Greenspan)
Print Recipe
2 c. flour
3/4 tsp. baking powder
1/2 tsp. baking soda
1 tsp. salt
1 c. butter, softened
1 1/2 c. brown sugar
1/2  c. sugar
2 eggs
2 tsp. vanilla
1 c. chocolate chips
1 c. toffee bits (I used Heath bits)
1 c. pecans, chopped
1 c. coconut
Directions:
Preheat oven to 325 oF. Spray 13″ x 9″ pan with cooking spray.
Cream butter, sugar and salt together. Beat in eggs, vanilla and leaveners. Mix in flour until well-incorporated.
Stir in remaining ingreadients (mixture will be thick!). Spread into prepared pan, smoothing top with rubber spatula.
Bake 40 minutes, rotating pan ~ 15 minutes in. Remove from oven and run knife round sides to loosen. Let cool for 10 minutes in pan before transferring onto cooling rack. Cut into 32 bars.