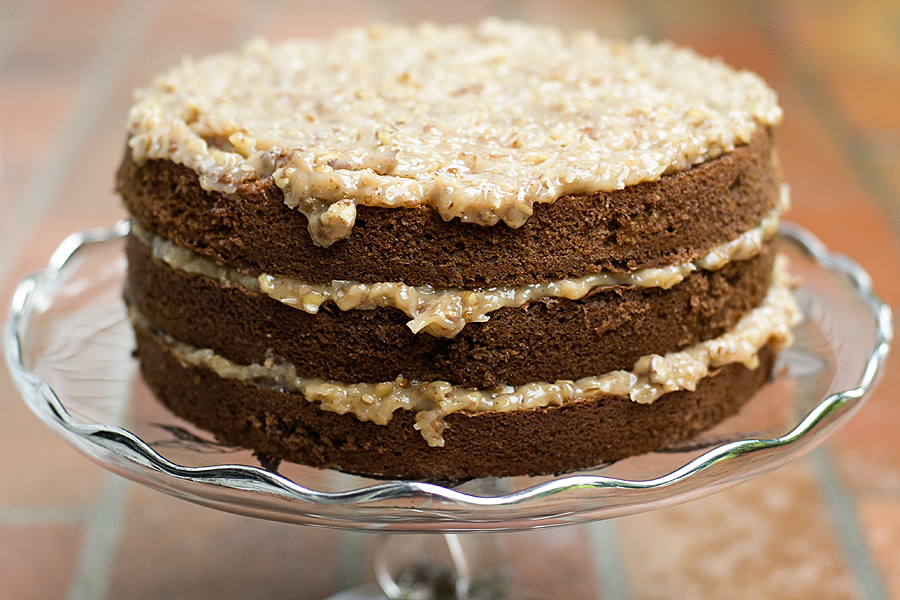 My Dad's birthday was on September 2nd. All he wanted from me was a German chocolate cake. I was relieved at this request because a) baking is my thing and b) I have no money to buy him expensive golf clubs. German chocolate cake is his favorite – apparently my mom, who cannot cook or bake to save her life, made him one of these cakes when they were dating. Aww. I don't think she's baked since.
I loathe coconut with the fire of a thousand suns, so I had to take their word for it that this cake was delicious. It disappeared off our counter within days and oh, the butter + pecan frosting smelled delicious. I also loved making this cake because I didn't have to frost it! Sometimes I just want simplicity and this was it.
On another note, posts may be few and far between for the next few months. I'm traveling quite a bit between now and mid-October, so I won't be baking much. Fall, Halloween, and winter are approaching — my favorite baking seasons — so I'm hoping to cook and bake as much as I can. But if things quiet down and tumbleweeds start to drift across my blog, I apologize.
Hope you're all having a great September.
German Chocolate Cake
Recipe source: kraftrecipes.com
Print Recipe
1 pkg. (4 oz.) BAKER'S GERMAN'S Sweet Chocolate
1/2 cup  water
4 eggs, separated
2 cups  flour
1 tsp baking soda
1/4 tsp salt
1 cup butter, softened
2 cups sugar
1 tsp vanilla
1 cup  buttermilk
Coconut-Pecan Filling:
4 egg yolks
1 can (12 oz.) evaporated milk
1-1/2 tsp vanilla
1-1/2 cups sugar
3/4 cup butter
1 pkg (7 oz.) sweetened flake coconut (2-2/3 cups)
1-1/2 cups chopped pecans
1. Preheat oven to 350F. Spray bottoms and sides of 9-inch round pans with non-stick spray.
2. Microwave chocolate and water in a microwave-safe bowl for 1-1/2 to 2 minutes (or until chocolate is almost melted). Stir until chocolate is completely melted.
3. Beat egg whites in small bowl with mixer on high speed until stiff peaks form; set aside. Mix flour, baking soda, and salt. Beat butter and sugar in large bowl with mixer until light and fluffy. Add egg yolks, 1 at a time, beating well after each. Blend in melted chocolate and vanilla. Add flour mixture alternately with buttermilk, beating until well-blended after each addition.
4. Add egg whites; stir gently until well-blended. Pour into prepared pans.
5. Bake 30 minutes, or until tester comes out clean. Cool cakes in pans 15 minutes; remove from pans to wire racks.
6. While the cakes cool, make the coconut filling. Beat egg yolks, milk, and vanilla in large saucepan with whisk until well blended. Add sugar and butter; cook on medium heat 12 minutes or until thickened and golden brown, stirring constantly. Remove from heat. Add coconut and nuts; mixx well. Cool to desired spreading consistency.
7. Spread filling between each layer of cooled cake; top cake with a generous layer of filling.