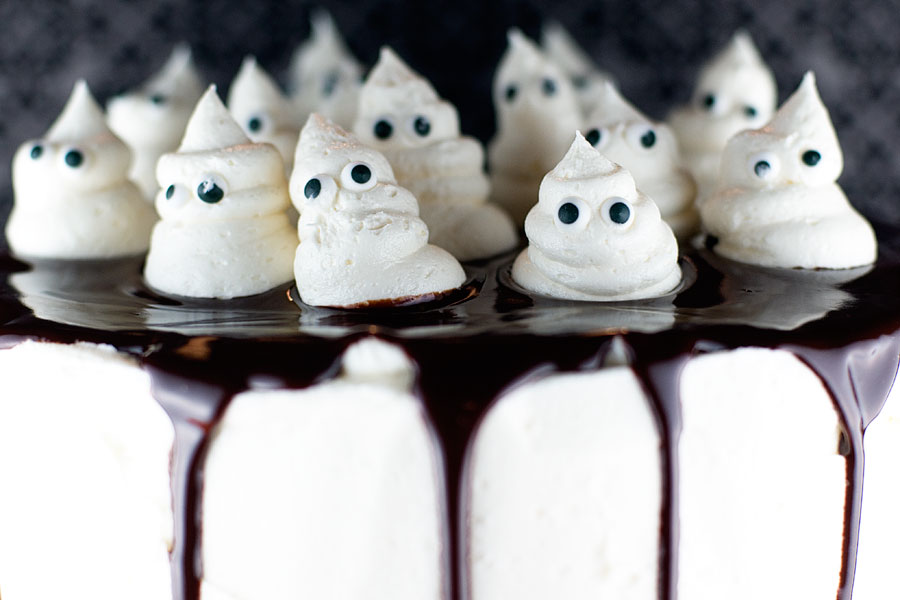 Happy Halloween!! Hope you all had a great time at your weekend Halloween parties. What did you dress up as? I wish that I were still a little kid – the costumes are so much cuter… and more comfortable. I dressed up as a skeleton. And by "dressed up" I mean I wore a t-shirt with a skeleton design on the front. Halloween is more of a baking holiday for me than anything else :) Speaking of which, hope you enjoy this BOO CAKE!
Ghost Cake
Recipe source: I Am Baker
Print Recipe
For the Cake:
I made a two-layer cake from a box mix. Feel free to make something homemade if you'd like!
For the Frosting:
I frosted my cake using my go-to buttercream recipe.
1 stick salted butter – room temperature
1 stick unsalted butter – room temperature
1 cup shortening
1 tablespoon clear vanilla extract
2 pounds confectioner's sugar (powdered sugar, 10x)
4-6 tablespoons very cold milk
(The CLEAR extract is very important if you want WHITE buttercream. Most buttercream tends to have a yellow-ish tint if you use real vanilla extract)
1. Cream the butter and shortening in the bowl of an electric or stand mixer.
2. Add the clear vanilla extract and combine well.
3. Begin adding in the sugar and mixing thoroughly after each addition.
4. After all of the sugar has been added and mixed thoroughly, begin adding the very cold milk… one tablespoon at a time, combining very well after each addition (mixer on medium-high to high speed) until you reach the desired consistency.
For the Ganache:
After the cake is frosted, make the ganache.
8 oz. semi-sweet chocolate, chopped
1 cup heavy cream
1/2 teaspoon vanilla
1/4 cup light corn syrup
1. Combine all ingredients into a double boiler and cook over a medium heat, stirring frequently. Once the mixture becomes smooth, remove from heat and allow to cool completely.
For the Ghosts:
While the ganache cools, make the marshmallow frosting.
2 sticks butter, at room temperature
2 cups powdered sugar
1 jar marshmallow fluff (7oz)
2 teaspoons clear vanilla extract
1. Cream the butter and powdered sugar in a large bowl. Add marshmallow fluff and vanilla; mix well.
2. When the ganache is cooled, spread over the top of the cake until it begins to drip down the sides. Imperfection is totally OK – don't worry about making a bit of a mess!
3. Wait about 15 minutes for the ganache to settle, then pipe the marshmallow ghosts. I used a pastry bag fitted with a large round tip. Pipe the frosting onto the cake into the shape of ghosts; add candy eyes or black icing for eyes. Do not worry about making the ghosts look perfect — the more "off" they are, the better. Give them crossed eyes, make them lean to the side, they're supposed to be a little crazy.