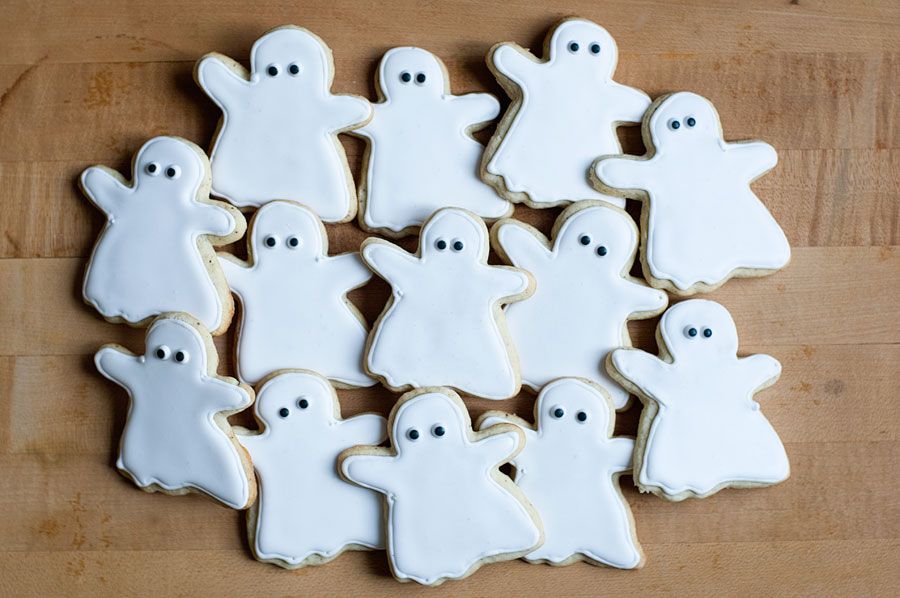 BOO! Ghosts, of the Casper-the-friendly-ghost variety, are so cute and cuddly. These cookies involve royal icing, but were easier than usual because only one color of royal icing was needed! Saves a lot of time and energy only having to worry about making white icing. Anyway – here's the scoop on how these were made.
Ghost Cookies
Print Recipe
For the cookies:
2 cups butter
2 cups sugar
2 large eggs
1 teaspoon salt
6 cups flour
2 teaspoons baking soda
1 cup sour cream
2 teaspoon nutmeg
Beat butter and sugar. Add eggs, sour cream, and nutmeg. Add dry ingredients gradually. Chill the batter overnight or for at least 4 hours. Roll out dough and cut with a ghost cookie cutter. Bake at 350F until golden, about 8-10 minutes. Note: Feel free to use any sugar cookie recipe you'd like. I chose this one because it's my favorite.
For the decorating:
You'll need water, meringue powder, and powdered sugar. As well as a small round pastry tip and a plastic bottle for flooding. I outlined each cookie with white icing. Once the outline set up, I flooded the cookies with white icing. Place two candy eyes on top of each ghost and that's it!
As always, I refer you to Annie's post about decorating with royal icing. She's got it down to a science and there's no point in re-inventing the wheel here!