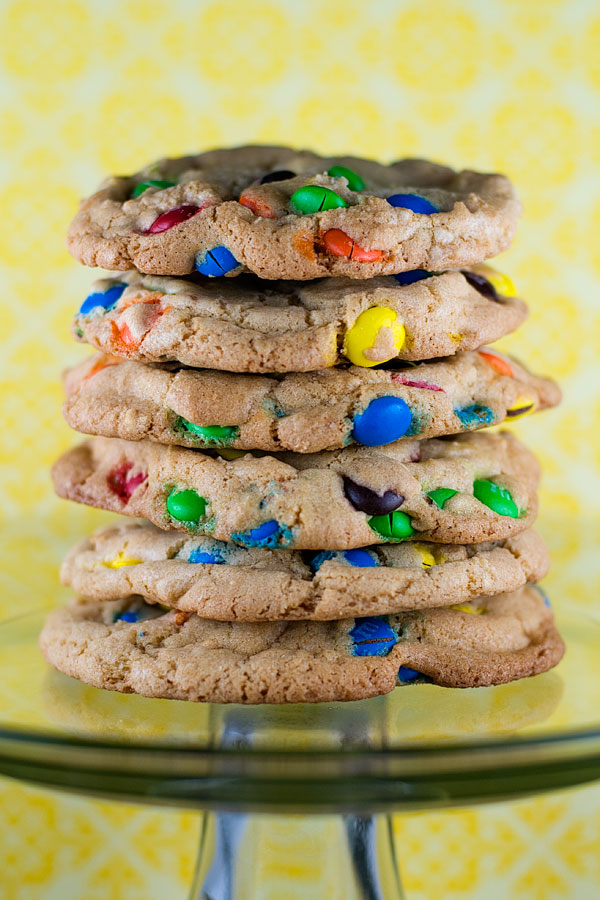 I started law school this fall which means that I don't have nearly as much time to devote to baking as I once did (cause you guys, law school is i-n-t-e-n-s-e). But I have planned out a few things for this fall and giant M&M cookies were on the list. The Cafe in the law school building sells these amaaaaazing M&M cookies that are the size of your hand. Sometimes I make poor life choices when I'm hungry and staying late at school, which is how I discovered the deliciousness of those gigantic cookies.
I went searching on the Internet for a recipe that might be able to duplicate it and I was successful! These cookies are big and we're not even going to discuss the caloric content. Ignorance is bliss sometimes, right?
Giant M&M Cookies
Recipe source: howsweeteats.com
Print Recipe
2 cups + 2 tablespoons all-purpose flour
1/2 teaspoons baking soda
1-1/2 sticks salted butter, melted and cooled
1 cup brown sugar
1/2 cup sugar
1 egg + 1 egg yolk, at room temperature
2 teaspoons vanilla extract
1 cup mini m&m's (I used regular-sized M&Ms because I didn't have the Minis!)
1. Preheat oven to 325 degrees F.
2. Mix the flour and baking soda in a bowl and set aside.
3. In another bowl, mix the butter and sugars until they are combined. Add the egg, egg yolk, and vanilla and stir until mixed. Gradually add flour and mix until a dough forms – it will look crumbly at first, but it will come together. Fold in the M&Ms.
4. Divide the dough how you choose (1/4 cup portions for 18 large cookies or 2 tablespoon portions for 36 smaller cookies). Shape each portion into a ball with your hands then pull each ball into two equal pieces. Turn each half so that the rough side of the half (what used to be the inside of the ball) faces upwards and then squish both halves together. Place the dough rough-side up on a baking sheets. If you are making the large version of the cookie, be sure to space them out on the cookie sheet!
5. Bake for 12-15 minutes (large cookies) or 8-12 minutes (small cookies) or until the edges are slightly brown. The centers should be soft and puffy. Do not over bake. Cool on a wire rack.