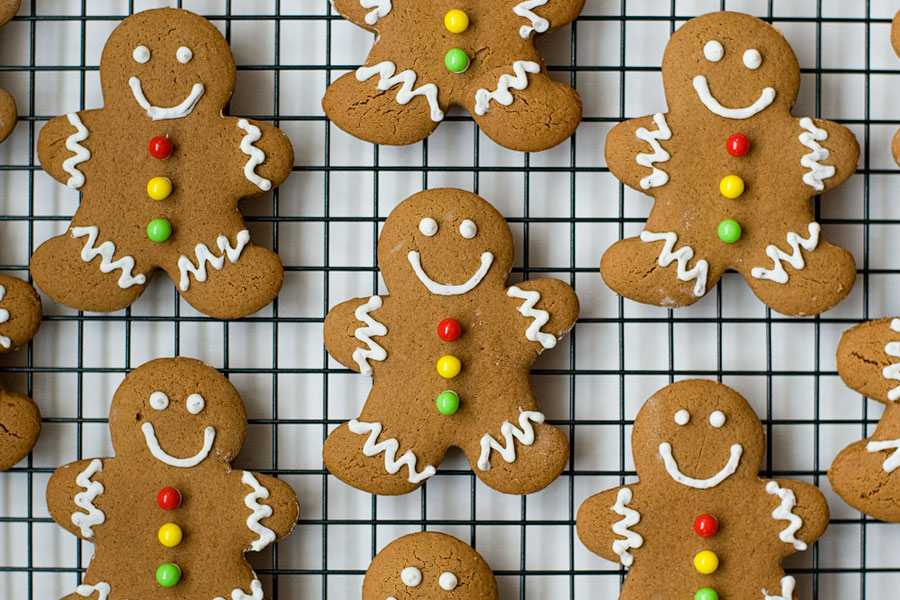 I'm back from my hiatus! Finals are over and I finally have time to start baking again! I don't have enough time to bake very many Christmas goodies, but I had to do something. I've wanted to make gingerbread men for a few years now. (Sorry to report that there are no gingerbread women. . . next time!) These cookies are not perfect. Many of them have cracks and many have spots of flour left over from rolling out the dough. I get a lot of comments from my blog readers saying, "oh, I could never make anything look as good as you do!" Yes you can! And believe me, my creations are nowhere near perfect. Embrace the messy and the imperfections. They are just cookies. The people you make them for will love the treats no matter what.
I hope you're all having a great holiday season. I'm guessing I'll be able to post more over the next couple weeks, as I'm on winter break.
Gingerbread Men
Recipe source: Taste of Home
Print Recipe
1/2 cup butter, softened
3/4 cup packed dark brown sugar
1/3 cup molasses
1 egg
2 Tablespoons water
2-2/3 cups all-purpose flour
2 teaspoons ground ginger
1 teaspoon baking soda
1/2 teaspoon salt
1/2 teaspoon each ground cinnamon, nutmeg, and allspice
1 tub store-bought vanilla icing
1. In a large bowl, cream butter and brown sugar until light and fluffy. Beat in the molasses, egg, and water.
2. Combine the flour, ginger, baking soda, salt, cinnamon, nutmeg, and allspice; add to creamed mixture and mix well.
3. Divide dough in half. Refrigerate for 30 minutes or until easy to handle.
4. Preheat oven to 350F. On a lightly floured surface, roll out each portion of dough to 1/8 inch thickness. Cut with a floured cookie cutter. Place 2 inches apart on parchment-lined baking sheets. Reroll scraps. [note: even after refrigeration, the dough will be soft – don't let this worry you!]
5. Bake for 8-10 minutes or until edges are firm. Remove to wire racks to cool completely.
For decorating:
Place the icing in a ziploc bag and snip the corner to create a piping bag. Pipe icing onto each cookie – you can pipe eyes, a smile, a nose, anything you'd like. Decorate the gingerbread men with small candies or sprinkles. I used small round candies for the buttons. Mini M&Ms would be a great choice!