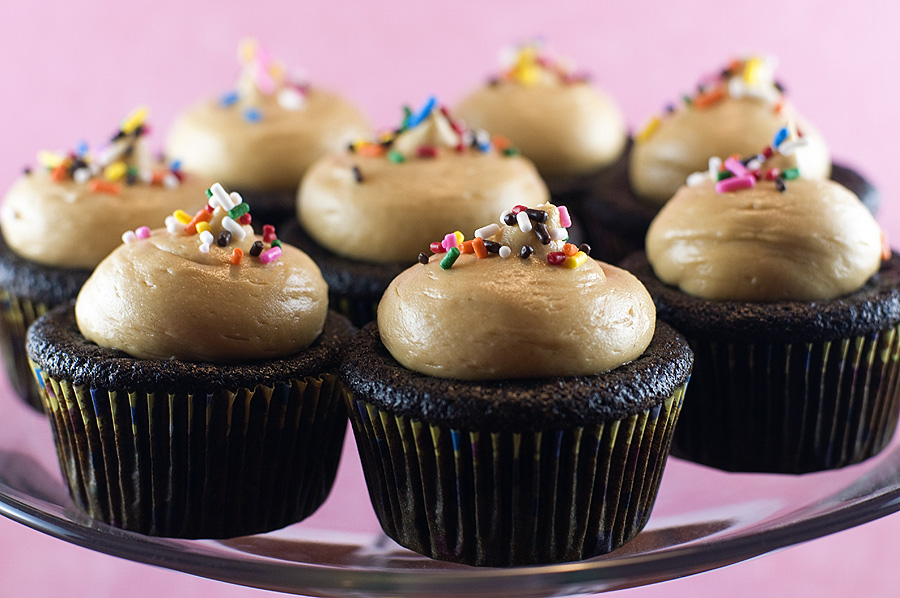 Sometimes finding good gluten-free from-scratch recipes is a challenge. Sometimes you just don't feel like using rice flour or xantham gum or other slightly-obscure ingredients. The secret ingredient to these beauties is simple: black beans! I was intrigued and had to try. The end result got two thumbs up from Meghan, my reason for making g-free baked goods. These cupcakes were super simple to make and so delicious.

Gluten-Free Chocolate Peanut Butter Cupcakes
Recipe source: Chocolate & Carrots
Print Recipe
1 can (15.5 oz) reduced-sodium black beans, drained and rinsed
4 eggs
1 Tablespoon vanilla extract
5 Tablespoons unsalted butter, or coconut oil
3/4 cup sugar
5 Tablespoons special dark cocoa powder
1 teaspoon baking powder
1/2 teaspoon baking soda
12 Reese's Peanut Butter Cups, unwrapped
Peanut Butter Frosting:
1 cup creamy peanut butter
5 Tablespoons unsalted butter, softened
2 cups powdered sugar
1/2 to 2/3 cup whipping cream (heavy cream)
1. Preheat oven to 350F and line a 12-cup muffin pan.
2. Blend the beans, 2 eggs, vanilla, and sugar in a food processor (or blender) on high until completely blended.
3. In a small bowl combine the cocoa powder, baking powder, and baking soda.
4. In a large bowl, beat the butter until fluffy; add the remaining two eggs and beat well after each. Beat in the bean mixture. Beat in the dry ingredients.
5. Pour the batter into the prepared pan and place a peanut butter cup on the top. Bake for 20-25 minutes or until a tester comes out clean. Allow to cool completely before icing.
6. For the icing, beat the peanut butter, butter, and powdered sugar until combined. Add the whipping cream and beat until light and fluffy.