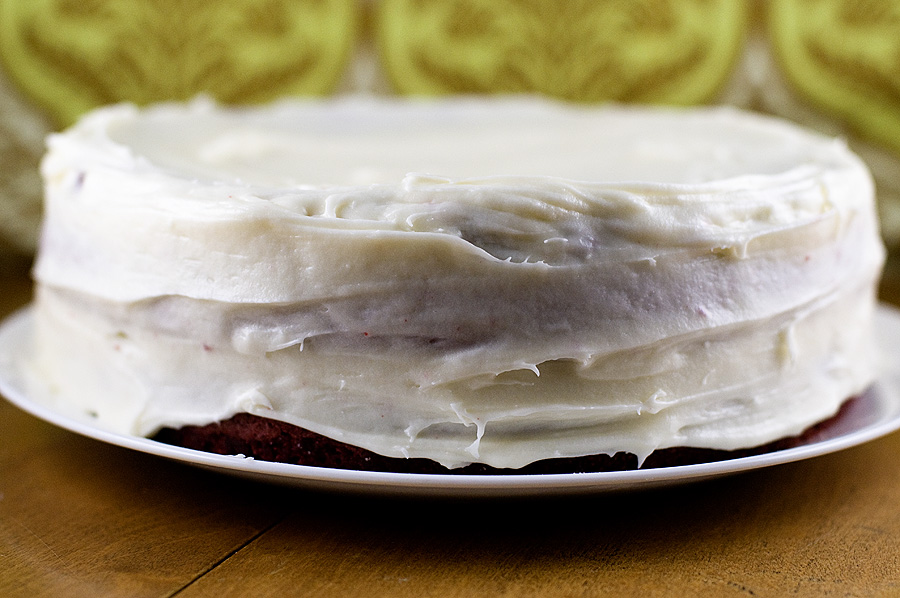 My friend Beth loves red velvet cake. I love red velvet cake. My friend Meghan has never had red velvet cake. What WHAT?! The catch to this is that Meghan has celiac disease, which means that she and gluten do not agree with one another. This also means that most baked goods are filed under the list of things Meghan can't eat. Sadface.
We searched the internet for a gluten-free red velvet cake recipe (what can't you find using Google?!). The first recipe we found had a list of bizarre gluten-free ingredients. No thanks. The second recipe we found only had two specialty ingredients: gluten-free flour and xanthan gum (a powder which is used as a replacement for gluten). Bingo. Here's the result of our baking day on Sunday!
Gluten-Free Red Velvet Cake
Recipe source: cookingandblogging.com
Print Recipe
1-3/4 cups vegetable oil
1-1/2 cups sugar
2 eggs (beaten)
2-1/2 cups gluten-free flour
1 tsp baking soda
1 tsp xanthan gum
1/4 teaspoon salt
1 cup buttermilk
1 tsp vanilla
1 bottle (1 oz) red food coloring
1 Tablespoon cocoa powder
1. Preheat oven to 350F.
2. Mix oil and sugar in a large bowl using a mixer. Add eggs, one at a time, after first beating them.
3. Sift all dry ingredients together in a large bowl. Add flour to the oil and sugar mixture, alternating with the buttermilk. Begin and end this process with the flour mixture.
4. In a separate bowl, mix the vanilla, food coloring, and cocoa, then add to the mixture. After mixing well, pour the batter into two 8″ cake pans (spray with non-stick spray first).
5. Bake approximately 30 minutes – or until a tester comes out clean. Cool cakes completely on a wire rack before frosting.
Cream Cheese Frosting
8 ounces (2 sticks) unsalted butter, room temperature
12 ounces cream cheese, room temperature
1 pound (4 cups) confectioners' sugar, sifted
3/4 teaspoon pure vanilla extract
Beat butter and cream cheese with a mixer on medium-high speed until fluffy, 2 to 3 minutes. Reduce speed to low. Add sugar, 1 cup at a time, and then vanilla; mix until smooth. Frosting can be refrigerated for up to 3 days; before using, bring to room temperature, and beat until smooth.