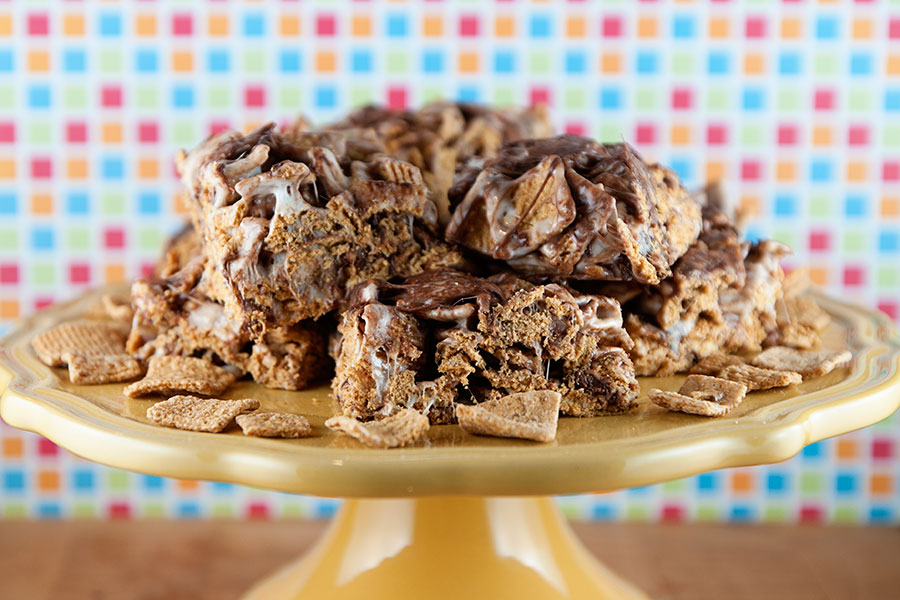 Okay, these don't involve Rice Krispies — but they do involve cereal and marshmallow! Golden Grahams are a favorite of mine if I'm in the mood to throw health out the window and eat a sugary cereal for breakfast. But you know, I run a baking blog… so I guess I throw health out the window quite frequently. :) These treats kind of reminded me of s'mores – golden grahams, marshmallow, and chocolate – what could be better?
Golden Graham Bars
Recipe source: Brit + Co
Print Recipe
4 cups Golden Grahams cereal
1/2 cup chocolate chips
7 oz marshmallows (about 2/3 of a 10 oz bag)
2 Tablespoons butter
1. Spray a cake pan or baking sheet with cooking spray.
2. Put marshmallows and butter in a pan over medium heat. Stir until melted and smooth.
3. Quickly add in the cereal and other add-ins and mix with a wooden spoon.
4. Pour the cereal mixture into the cake pan and flatten with the back of the wooden spoon.
Note: If you prefer a thicker bar, you might want to double the recipe. I ended up with really skinny bars the first time around (using a 9×9 pan). I think the best approach is to use a 9×13 pan and to double the ingredients!