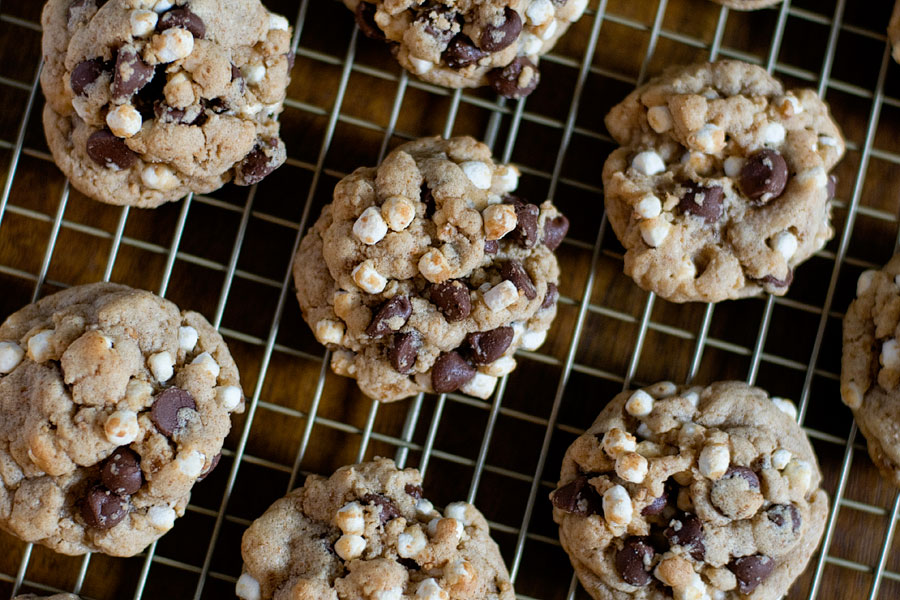 I decided that I wanted to make s'mores cookies, but I had two recipes to choose from — so I decided to make both! Check back next week for the other variation of these cookies. Both versions are amazing (otherwise I wouldn't be blogging them), but they are distinct and different. Today's, from Kevin & Amanda, features little marshmallow bits. Yes, they sell marshmallow bits (like what you find in hot cocoa mixes) at the store! They're made by Kraft, under the Jet-Puffed brand name, and I found them in the baking aisle at Target. They are so tasty!
Anyway! On with the recipe.
Gooey S'mores Cookies
Recipe source: Kevin & Amanda
Print Recipe
1/2 cup  butter, softened
1/2 cup sugar
1/4 cup brown sugar
1 egg
1 teaspoon vanilla
1 1/3 cups flour
3/4 cup graham cracker crumbs (7 full graham cracker sheets)
1 teaspoon baking powder
1/2 teaspoon salt
1 cup chocolate chips
1 cup Jet Puffed Mallow Bits
1. Preheat oven to 350 degrees F and line a cookie sheet with parchment paper.
2. Using a mixer, cream the butter and sugars until light and fluffy, about 3 minutes. Add the egg and vanilla and beat for an additional 2 minutes.
3. Meanwhile, use a food processor or blender to crush 7 graham cracker sheets into 3/4 cup fine crumbs.
4. In a separate bowl, whisk together the graham cracker crumbs, flour, baking powder, and salt.
5. Slowly add the dry ingredients to the wet ingredients, and mix on low speed until the dough just comes together. Add the chocolate and marshmallows and stir to combine.
6. Place 1-1/2 Tablespoon sized scoops of dough onto the prepared cookie sheet. Bake at 350 for 10-12 minutes.
Makes about 2 dozen cookies.