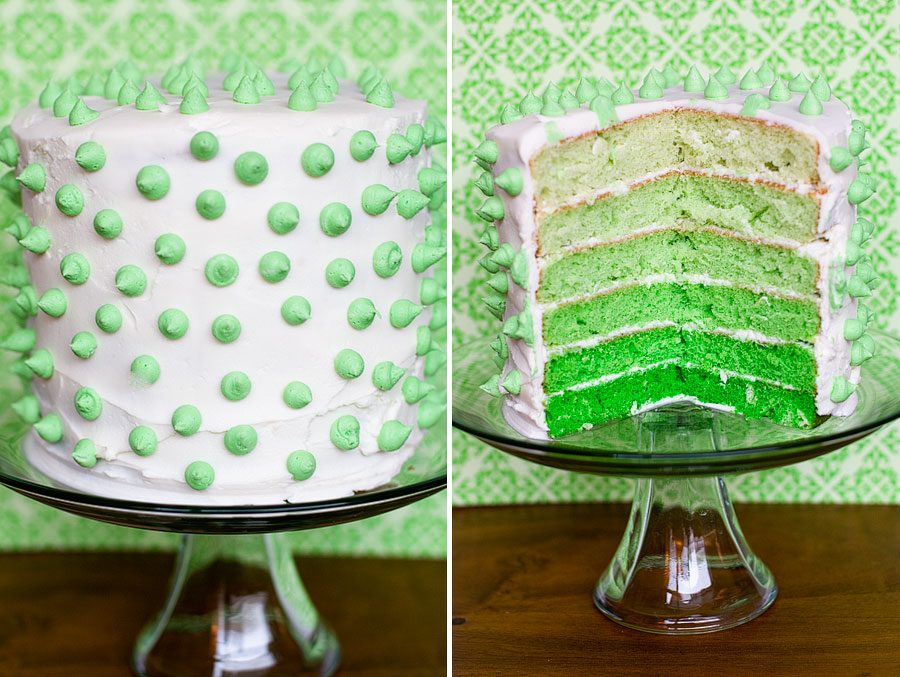 My obsession with ombre continues. You may remember that I made a pink ombre cake for Valentine's Day. This cake is similar, but I used a box mix this time! You can do ombre with any color – don't feel restricted to green! I chose green because St. Patrick's Day is approaching.
Green Ombre Cake
Print Recipe
Cake:
2 boxes white cake mix (plus required oil, eggs)
Green gel food coloring (I used Wilton's Leaf Green)
6″ cake pan(s)
1. Make the cake batter according to box directions. If you have a bowl large enough, make both batches together.
2. Add a small amount of green coloring; mix to achieve a pale green batter. Fill one cake pan with this batter. Add more green coloring to achieve a slightly darker green batter. Fill another cake pan with this batter. Repeat these steps until you have cakes varying from pale to vibrant green.
3. Bake according to box directions and cool cakes completely before frosting.
Frosting:
Recipe source: therepressedpastrychef.blogspot.com
1 stick salted butter – room temperature
1 stick unsalted butter – room temperature
1 cup shortening
1 tablespoon clear vanilla extract**
2 pounds confectioner's sugar (powdered sugar, 10x)
4-6 tablespoons very cold milk
(The CLEAR extract is very important if you want WHITE buttercream. Most buttercream tends to have a yellow-ish tint if you use real vanilla extract)
1. Cream the butter and shortening in the bowl of an electric or stand mixer.
2. Add the clear vanilla extract and combine well.
3. Begin adding in the sugar and mixing thoroughly after each addition.
4. After all of the sugar has been added and mixed thoroughly, begin adding the very cold milk… one tablespoon at a time, combining very well after each addition (mixer on medium-high to high speed) until you reach the desired consistency.
Assemble cake layers and place a thin layer of frosting between each layer. Cover the entire cake in white icing. If you'd like, tint some of the frosting green and decorate with polka dots or stripes.