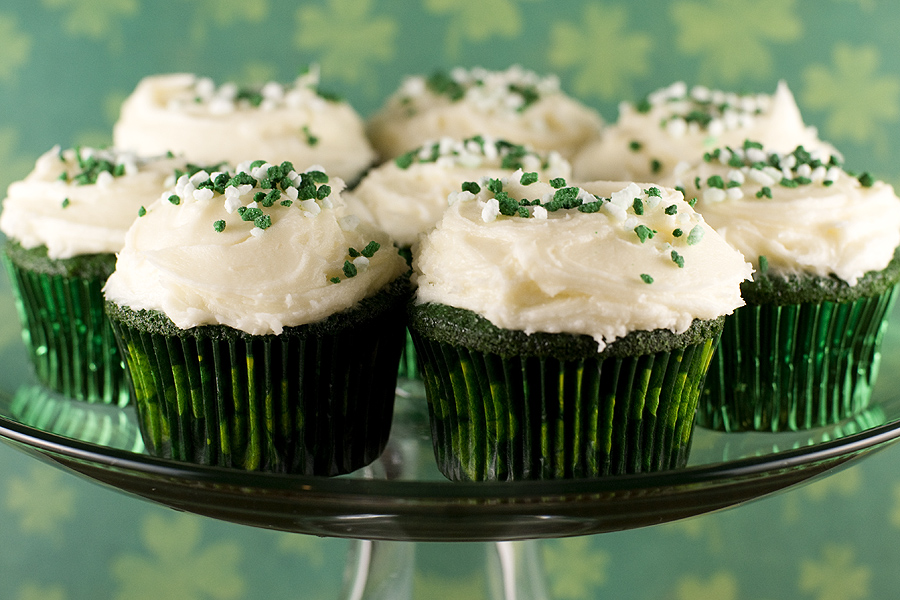 St. Patrick's Day is one week away! I decided to change my beloved red velvet cupcakes into green velvet! I don't have a single drop of Irish blood in me, but I always enjoy St. Patrick's Day — I love the color green, I always support holidays that involve beer & corned beef, and it's a sure sign that spring and warmer weather are on the way. These cupcakes taste just like regular red velvet, the only difference being the food coloring change.
Green Velvet Cupcakes
Recipe source: Bakerella
Print Recipe
2-1/2 cups all purpose flour
2 cups sugar
1 Tablespoon cocoa
1 teaspoon salt
1 teaspoon baking soda
2 eggs
1 cup oil
1 cup buttermilk
1 Tablespoon vinegar
1 teaspoon vanilla
1 oz. green food coloring
1. Preheat oven to 350 degrees. Line two cupcake pans with liners.
2. Lightly stir eggs in a medium bowl with a wire whisk. Add remaining liquid ingredients and stir together with whisk until blended. Set aside.
3. Place all the dry ingredients in your mixing bowl and stir together really good with another wire whisk.
4. Add wet ingredients to the dry ingredients and mix on medium-high for about a minute or until completely combined.
5. Fill cupcake liners about 2/3 full. Bake for about 20-25 minutes or until a toothpick inserted comes out clean.
6. After about ten minutes, remove from pans and cool completely on a wire rack.
Cream Cheese Frosting
8 oz. cream cheese, room temperature
1 cup butter, room temperature
1 teaspoon vanilla
6 cups confectioners' sugar
Sift sugar and set aside. Beat cream cheese and butter on high until creamy. Add vanilla. Then, add the sugar in batches. Scrape down the sides in between each addition. Frost your cupcakes and decorate with sprinkles if you'd like.