It's strawberry season here in the Midwest and today's blog post, recipe, and photos comes from my friend Laine. Laine has a food blog called Laine's Recipe Box – she shares all sorts of recipes and has now even started to review Madison restaurants. Please visit her blog if you have the chance! Today she's sharing a recipe for Strawberry Cookies.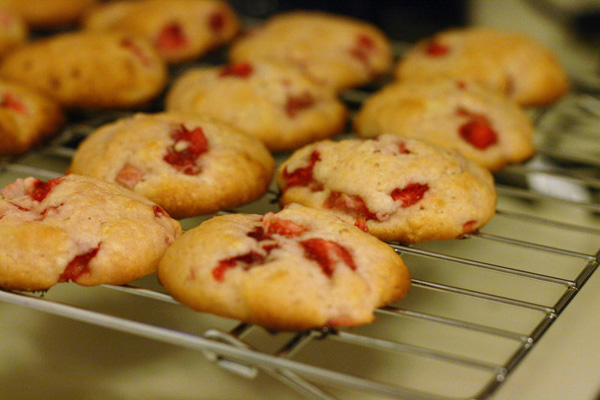 Strawberry Shortcake Cookies
from Martha Stewart
Print Recipe
Makes about 3 dozen
These tender cookies are made with cream and studded with sweet strawberries for a portable version of a classic dessert.

12 oz. strawberries, hulled and cut into 1/4-inch dice (2 cups)
1 t. fresh lemon juice
1/2 c. plus 1 T. granulated sugar
2 c. all-purpose flour
2 t. baking powder
1/2 t. coarse salt
3 oz. (6 T.) cold unsalted butter, cut into small pieces
2/3 c. heavy cream
Sanding sugar, for sprinkling
1. Preheat oven to 375 degrees. Combine strawberries, lemon juice, and 2 tablespoons granulated sugar. Whisk together flour, baking powder, salt, and remaining 7 tablespoons granulated sugar in a large bowl. Cut in the butter with a pastry cutter, or rub in with your fingers, until mixture resembles coarse crumbs. Stir in cream until dough starts to come together, then stir in strawberry mixture.
2. Using a 1 1/2-inch ice cream scoop or a tablespoon, drop dough onto baking sheets lined with parchment, spacing evenly apart. Sprinkle with sanding sugar, and bake until golden brown, 24 to 25 minutes. Transfer to a wire rack, and let cool. Cookies are best served immediately, but can be stored in an airtight container at room temperature for up to 1 day.
* I found that my cookies baked much faster than the recipe indicated and would have been completely burnt if I'd followed the recipe and not checked them early. My oven may run hot, but I've never had a bake time be so far off from what a recipe indicated. I would suggest keeping a close eye on them during the baking time.