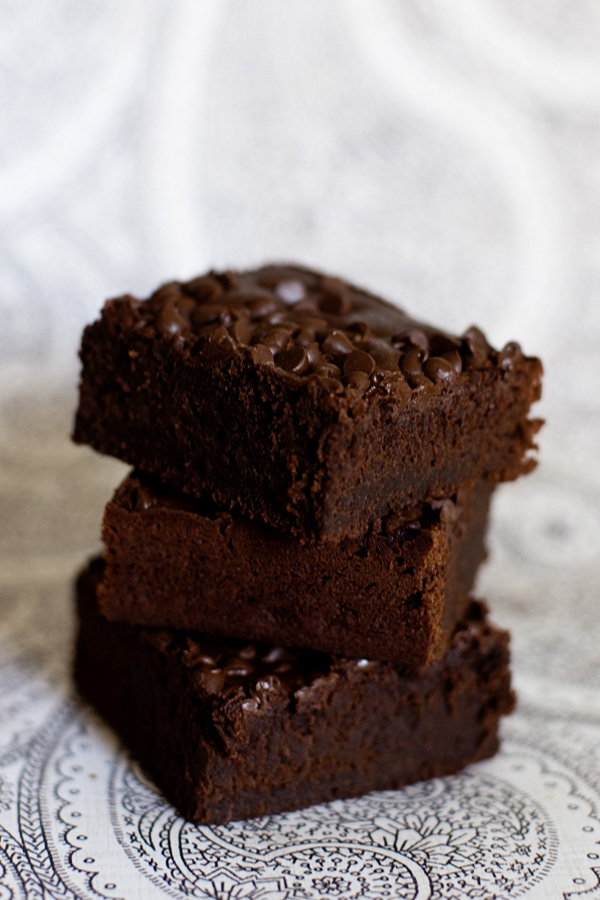 I had some Guinness leftover from last week's Irish Car Bomb cupcakes, so I decided to make brownies! Thank you to Kate for the recipe. :)
Guinness Brownies
Recipe Source: Kate Gilson
Print Recipe
1 cup all-purpose flour
3/4 cup unsweetened natural cocoa powder (not Dutch process)
1/4 teaspoon salt
6 tablespoons unsalted butter, cut into cubes
8 ounces dark bittersweet chocolate, chopped
4 ounces high quality white chocolate, chopped
4 large eggs, at room temperature
1 cup granulated sugar
1 1/4 cup Guinness Stout beer, at room temperature
3/4 teaspoon vanilla
1 cup semi-sweet chocolate chips
1. Preheat oven to 375 degrees.
2. Line a 13 x 9-inch baking pan with nonstick foil (or regular foil coated with nonstick spray); or, use a nonstick pan coated well with nonstick spray.
3. In a large bowl, whisk together the flour, cocoa and salt; set aside.
4. Melt the chocolate in the microwave: In a medium glass bowl, or other microwave-safe bowl, combine the dark chocolate, white chocolate and butter. Microwave on medium power for 45 seconds and stir. Continue microwaving and stirring at 30 second intervals, reducing to 15 second intervals as the chocolate is nearly melted. Stop just when the chocolate is smooth (all microwaves are different, so take care not to burn it). Set aside. (I used a double-boiler – I think it's a much easier way to melt the chocolate consistently without burning)
5. Combine the eggs and sugar and vanilla in a large bowl and mix on high speed until light and fluffy, about 3 minutes.
6. Add melted chocolate in two additions, beating on medium speed until combined.
7. Add flour mixture in two additions, beating on medium speed until combined.
8. Add one-third of the Guinness and whisk until combined. Repeat two more times with remaining Guinness.
9. Pour brownie batter into prepared pan. Sprinkle chocolate chips evenly over top. Bake for 23 to 27 minutes, or until a toothpick inserted in the center comes out clean. Cool completely in pan, cut into 24 squares and serve.