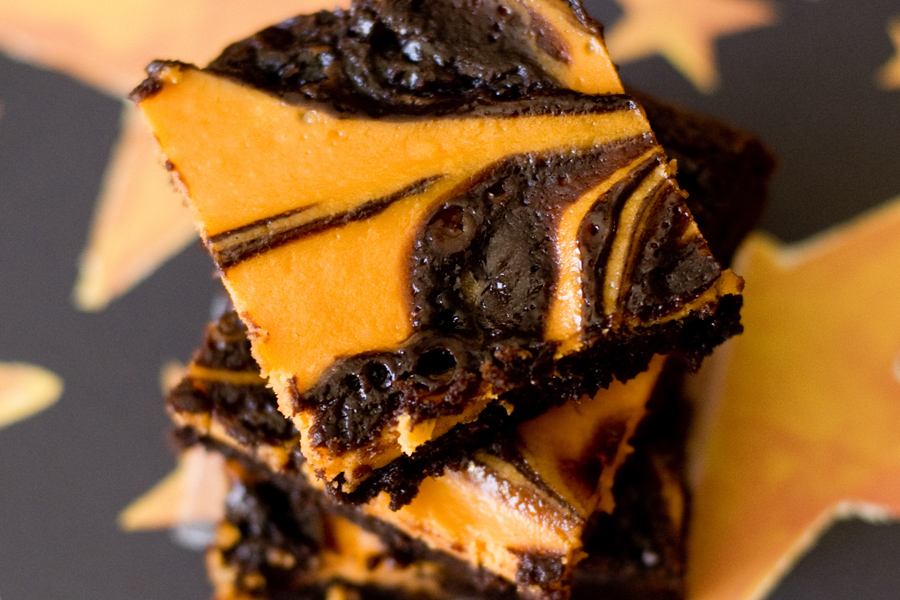 Oh my heaven. I'm always a fan of any combination of chocolate and cream cheese. :) These brownies are really dense and rich!
Halloween Brownies
Recipe source: Betty Crocker
Print Recipe
Filling:
6 oz. cream cheese, softened
1 egg
1/4 cup sugar
orange food coloring
1/2 teaspoon vanilla extract
Brownies:
1 box Betty Crocker Original Supreme brownie mix (w/ chocolate syrup pouch)
1/3 cup vegetable oil
1/4 cup water
2 eggs
1. Preheat oven to 350F. Grease or spray bottom only of a 13″x9″ baking pan.
2. In a small bowl, beat filling ingredients with electric mixer on low speed until smooth. Set aside.
3. In a larger bowl, stir brownie ingredients until well blended. Spread 3/4 brownie batter in pan. Spoon filling by tablespoonfuls evenly onto brownie batter. Spoon remaining brownie batter over filling. For marbled design, pull knife through batter and filling in wide curves; turn pan and repeat.
4. Bake 26-30 minutes or until set. Cool completely at room temperature, about 1 hour. Refrigerate at least 1 hour until chilled.