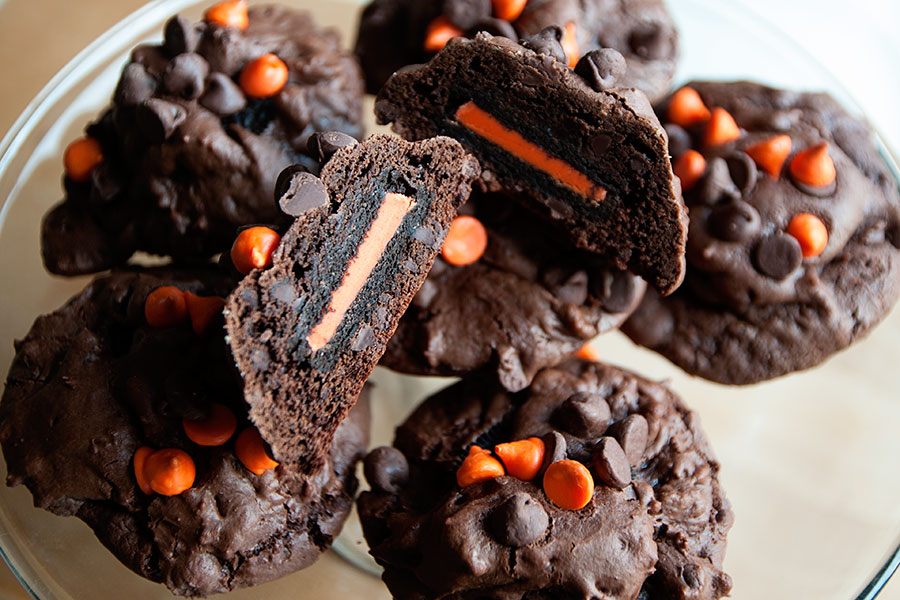 Did you like yesterday's post but felt that there just wasn't enough CHOCOLATE involved? Well I hope these cookies help! Basically the same concept as the cookies posted yesterday — but it's a chocolate cookie dough instead. These are also a little more tricky to make, so read the instructions carefully. Because I didn't the first time around. Whoops.
Halloween Oreo Stuffed Chocolate Cookies
Recipe source: simplygloria.com
Print Recipe
1-1/2 cups all-purpose flour
3/4 plus 2 tablespoons baking cocoa
1 teaspoon baking soda
1/2 cup butter, melted
1-1/4 cups (14-ounce can) sweetened condensed milk
1 egg, beaten
1 teaspoon vanilla
2 cups chocolate chips, divided
18-20 Oreos
3/4 cup semi-sweet chocolate and orange colored morsels (found mine at Target)
1. Preheat oven to 350 degrees.
2. Whisk together the flour, baking cocoa, and baking soda in a medium mixing bowl.
3. Melt butter in a large sauce pan on medium heat. Take off heat and add 1 cup of chocolate chips and stir until melted.
4. Pour sweetened condensed milk into the melted chocolate mixture. Add vanilla and beaten egg. Stir.
5. Gently fold in the flour mixture into the chocolate in the sauce pan. Once all combined, stir in the rest of the chocolate chips.
6. Use a large cookie scoop and put the each ball of dough onto a large baking sheet. Put a sandwich cookie right on top and gently pushing it down. Fold over the cookie dough and roll it up over the sandwich cookie. Cover the tops with chocolate morsels. [This step is important! The folding of the dough over the top of the cookie is important! If you don't do it like this, you'll have sad looking cookies — trust me… I failed the first time around!]
7. Bake in a preheated 350 degrees oven for 10-12 minutes. Allow the cookies to cool completely on wire racks. Enjoy!
Makes about 20 cookies.