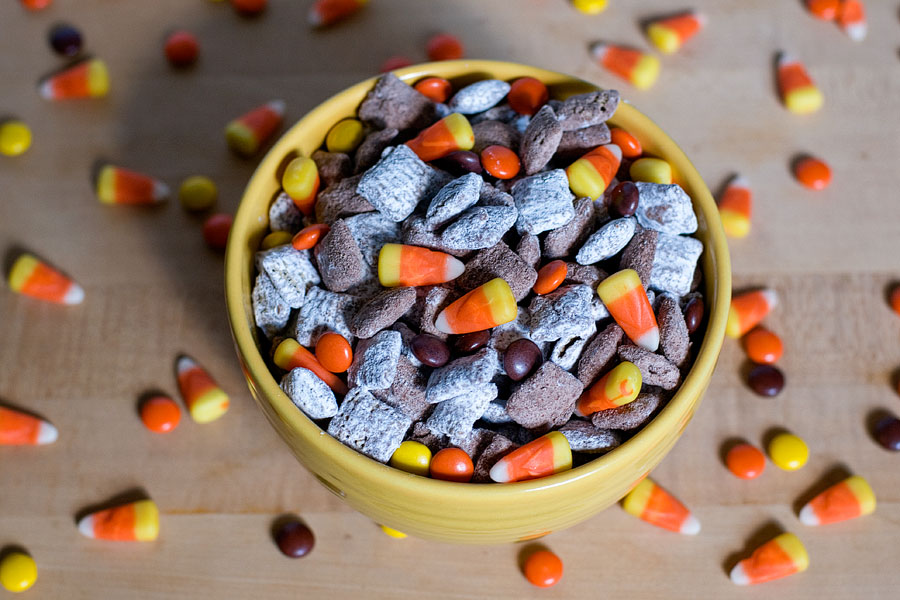 Puppppppy chowwwww! I absolutely love it. This is a seasonal take on the classic oh-so-addicting snack. This recipe involves candy corn and Reese's Pieces — but feel free to use whatever seasonal candies you'd like. Indian corn would work well and if you're not a Reese's Pieces fan, use orange, yellow, and brown M&Ms instead!
Halloween Puppy Chow
Recipe source: Your Cup of Cake
Print Recipe
8 cups rice cereal squares (Chex)
1-1/2 cups chocolate chips
1/2 cup creamy peanut butter
3/4 cup powdered sugar
3/4 cup brownie mix
2-1/2 cups Reeses Pieces
2-1/2 cups candy corn
+ 2 large Ziploc bags
1. Place Chex cereal in a large bowl and put the powdered sugar in one large plastic bag and the brownie mix in another.
2. Put the chocolate chips and peanut butter in a microwave proof bowl and heat for 30-50 seconds and stir until smooth. [I used a double boiler for this step – I'm old school and think it's a better way to melt the chocolate]
3. Pour over Chex cereal and gently fold until coated.
4. Put half of the chocolate-coated cereal in one plastic bag (with the powdered sugar) and then other half in your other bag (with the brownie mix).
5. Seal each bag and shake until covered.
6. Dump onto a cookie sheet to cool. Place in a large bowl and mix. Add in the Reese's Pieces and candy corn.