Happy 4th of July to all of the Americans that read this blog!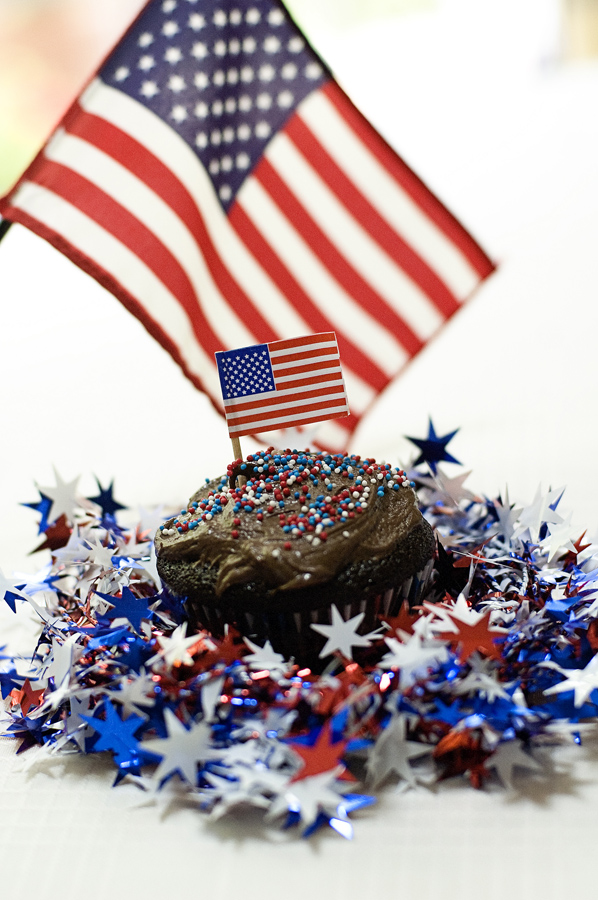 I decided to make chocolate surprise cupcakes for the occasion. They are filled with a cream cheese/chocolate chip mixture and are delicious! But I'm biased toward all things involving cream cheese. Mmm. The frosting is also made from scratch, using a recipe that calls for hot fudge topping. Makes the frosting a little more ooey and gooey and tasty, if you ask me. Here's the recipe plus a few more photos.
Chocolate Surprise Cupcakes
Print Recipe
3 cups flour
2 cups sugar
1/2 cup unsweetened cocoa powder
1 teaspoon salt
2 teaspoons baking soda
2/3 cup vegetable oil
2 cups water
2 tablespoons vinegar
2 teaspoons vanilla
filling:
8 oz. cream cheese, softened
1 large egg
1/2 cup sugar
1/4 teaspoon salt
1 cup semisweet chocolate chips (I used mini chips)
1. Preheat oven to 350F. Line a muffin tin with paper liners.
2. Mix flour, sugar, cocoa, salt, and baking soda. Stir in oil, water, vinegar, and vanilla. Pour 2/3 full into liners.
3. Make the filling. Beat cream cheese, egg, 1/2 cup sugar, and 1/4 tsp salt until light and fluffy. Stir in the chocolate chips. Drop heaping teaspoon of the filling into each cupcake.
4. Bake 25 minutes.
Frosting
1/2 cup butter, softened
1/4 cup shortening
1/3 cup unsweetened cocoa powder
2 cups powdered sugar
2 Tablespoons milk
1 cup hot fudge topping
1 teaspoon vanilla
1. Cream butter and shortening until light and fluffy.
2. Sift cocoa and powdered sugar together. Add to the creamed mixer gradually, beating well after each addition.
3. Add milk, mix well.
4. Add hot fudge topping and vanilla, mix well. Blend until smooth and creamy.