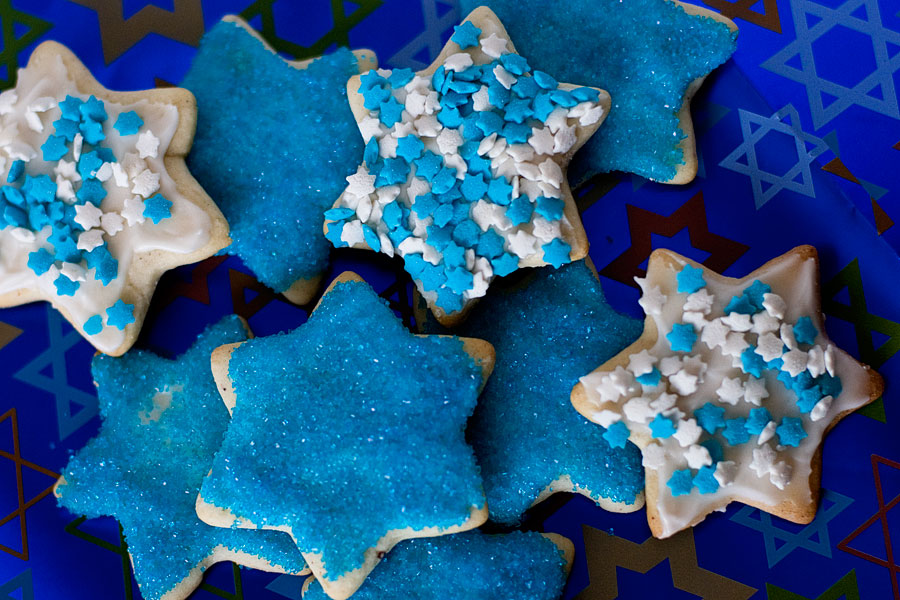 Happy Hanukkah to all of my Jewish readers!
There is a cute story behind the Star of David cookies above.  My grandmother used to make hundreds and hundreds of cut out sugar cookies every holiday season. There would be Christmas trees, stockings, bells, snowmen, and oddly, Stars of David.  My family isn't Jewish but each and every year, my grandmother would insist on making Star of David cut-outs and she would also insist on using blue sprinkles.  When I was a teenager I decided to ask her why she did this (considering that again, we're not Jewish — and Oshkosh has a very small Jewish population).  Her response was, "Don't be silly, they're stars!"  She had no idea that the six-pointed blue star that she insisted on making each year was a symbol of Judaism. My grandmother was not AT ALL anti-Semitic, she just didn't know that the shape was attached to the Jewish faith.
So from that year on, if I make my grandmother's cut-out cookies, I always make a few Stars of David. Just because.