In honor of Mother's Day, I decided to make some flower cupcakes. As you may or may not know, I'm in the middle of moving from Chicago to Madison. So most of my baking stuff is packed in a box. Sniff. However, I made the best of it and decided to make these pretty cupcakes – that don't involve any fancy tools or complicated techniques.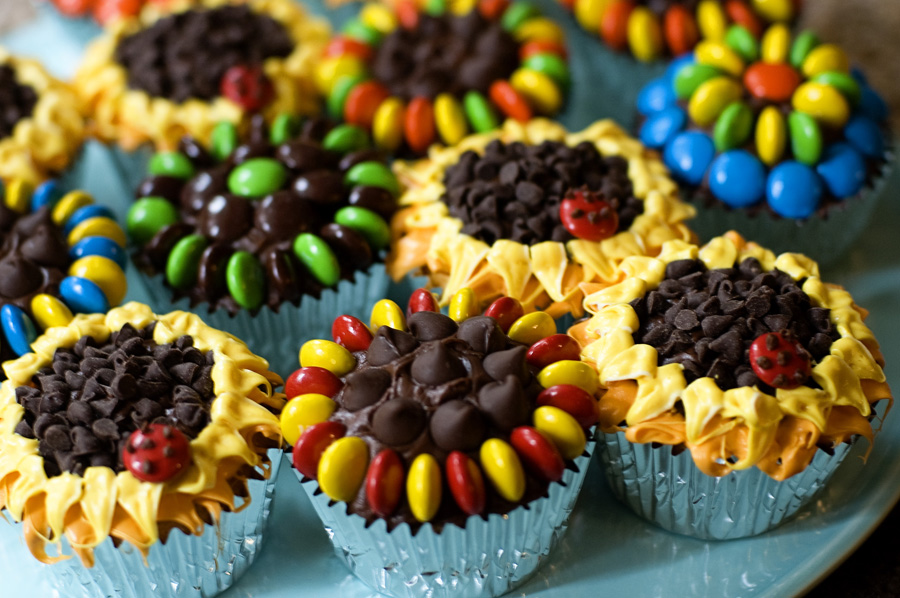 The cupcakes were made from a store-bought marble cake mix. The frosting is all store-bought as well. M&Ms, chocolate chips, mini-chocolate chips, and a few ziploc bags were all the supplies I needed. I tinted half a tub of cream cheese frosting yellow, and the other half orange. I put the frosting in two separate ziploc bags and snipped the corners in a V shape. This will give the effect of the sunflower petals. Wilton makes a pastry bag tip that will do the same thing, but the ziploc bag technique is cheaper and easier. I placed a circle of chocolate frosting in the middle of each sunflower cupcake and dipped them in mini-chips. Then I piped on the orange and yellow petals. The final step was to place a red M&M on the flower and pipe small little dots (to resemble lady bugs) using chocolate frosting and a ziploc bag (snip off the smallest part possible on the corner of the bag).
And a note about the petals — to get the frosting to look as much like petals as possible, be sure that you pipe each petal quickly. Start piping close to the chocolate chips, and then quickly pull away. This will help you achieve the tapered ends on the petals.
The other cupcakes are just decorated using some M&Ms & chocolate chips. Yum!