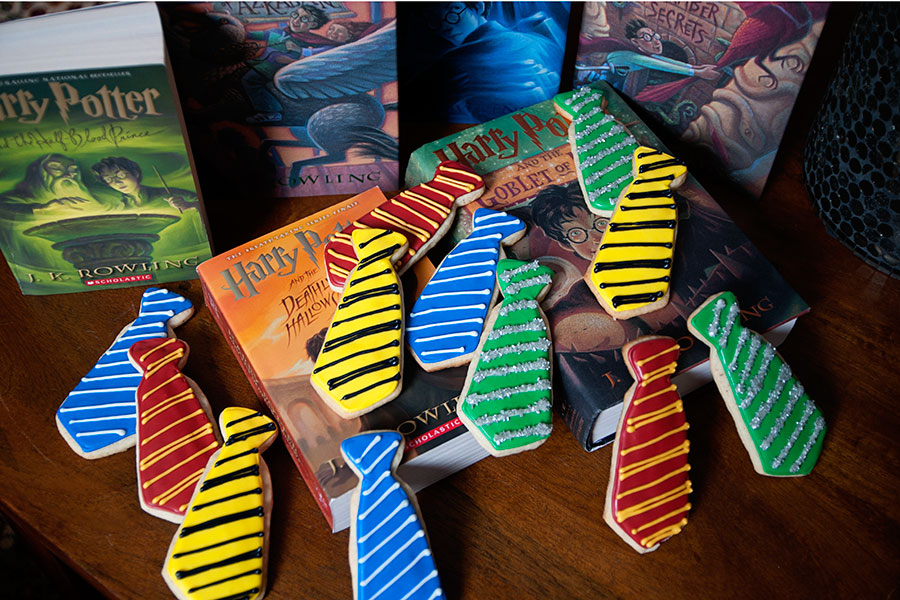 Raise your hand if you are Harry Potter obsessed! I am. I adore the story, the characters, the setting, and everything else about J.K. Rowling's phenomenal imagination. And let's be real, none of us will look at the word "Always" the same way again. When Andrea and I went to Disney back in January, we took a one-day detour and visited the Wizarding World of Harry Potter at Universal. It is so, so, so awesome! The butterbeer is delicious (get the frozen version though… trust me), the attention to detail is ridiculous, and the rides & shops completely immerse you in Harry's world.
To celebrate my love of all things Harry Potter, I made Hogwarts house tie cookies. I've made golden snitch cake pops and butterbeer cupcakes in the past.
What Hogwarts house would you choose? If you need a reminder:
Gryffindor: values bravery, daring, nerve, and chivalry (colors are scarlet and gold)
Hufflepuff: values hard work, patience, loyalty, and fair play (colors are yellow and black)
Ravenclaw: values intelligence, knowledge, and wit (colors are blue and bronze)
Slytherin: values ambition, cunning and resourcefulness (colors are emerald green and silver)
I would choose Ravenclaw — because I look great in cobalt blue. ;-) Here are the specifics on how I made these cookies (and scroll to the end of the post to see some pics from the Wizarding World of Harry Potter):
I bought the necktie cookie cutter off of Amazon
I didn't have a way to make bronze icing, so I borrowed from the HP movies and made Ravenclaw blue and white instead
I used Wilton gel food colorings; the Gryffindor red was created using No-Taste Red + a few toothpickfuls of purple (it helps to create a more maroon color); the other colors used were Buttercup (Gryffindor stripes), Yellow, Leaf Green + a few toothpickfuls of Teal (to create the emerald color for Slytherin), Royal Blue, and Black.
I covered the stripes on the Slytherin ties with silver sprinkles, because I didn't have a way to make silver icing.
If you are a new to decorating with royal icing, here are some helpful tips and links:
I used my grandma's sugar cookie recipe, which is listed below.  Another good cut-out cookie recipe can be found at Bridget's wonderful Bake at 350.
I used a royal icing recipe from Annie's Eats, which is listed below.
If you are new to decorating with royal icing, please visit this post by Annie's Eats, which will teach you about outlining and flooding.  Bake at 350 is also a great resource for cookie decorating and ideas (I love Bridget's book, too!).
Omi's Sugar Cookies
Print Recipe
1 cup butter
1 cup sugar
1 large egg
1/2 teaspoon salt
3 cups flour
1 teaspoon baking soda
1/2 cup sour cream
1 teaspoon nutmeg
Beat butter and sugar. Add eggs, sour cream, and nutmeg. Add dry ingredients gradually. Chill the batter overnight or for at least 4 hours. Roll out dough and cut with cookie cutters. Bake at 350F until golden (in true fashion, my grandma didn't give a specific baking time. I baked the cookies for about 8 minutes).
White Royal Icing
4 cups powdered sugar, sifted
2 Tablespoons meringue powder
5 Tablespoons water
Directions:
Combine all ingredients in the bowl of a stand mixer fitted with the paddle attachment. Mix on low speed until the sheen has disappeared and the icing has a matte appearance (about 7-10 minutes).  Transfer the contents of the mixing bowl to an air-tight container. This will be the stiffest consistency of the icing, and at this point it is still too stiff to use for decorating. Add water a very small amount at a time and stir by hand until fully incorporated. Continue until the icing has reached a consistency appropriate for piping.