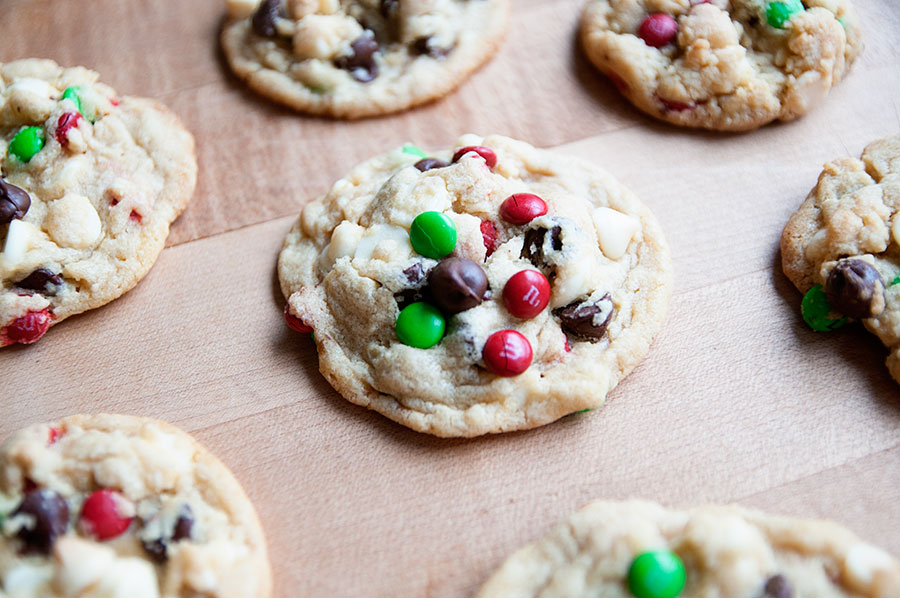 Every holiday season I buy something at the store (Target, usually) a little too early and then forget about it. This Christmas that something was holiday mini M&Ms. I bought them shortly after Halloween and totally forgot about them until a few days ago. Which prompted me to find a recipe for M&M cookies and put them to good use!
These cookies tasted great — but only a few of them turned out to be "pretty." I have a suggestion for you so you can avoid my mistake. There's a chilling step involved. Roll the dough into balls *before* you chill them instead of trying to do it when the dough is cold. I tried to roll the dough when it was chilled and my cookies, as a result, were not uniform in shape and had a lot of rough edges. Hope you enjoy!
Holiday M&M Cookies
Recipe source: Creme de la Crumb
Print Recipe
12 tablespoons butter, softened
3/4 cup brown sugar
1/4 cup sugar
1 teaspoon vanilla
1 egg
2 cups flour
1 small box instant vanilla pudding mix – dry, not prepared (one 3.4 ounce box, it must be INSTANT – not cook and serve, etc)
1 teaspoon baking soda
1/2 teaspoon salt
1 cup semi sweet chocolate chips
1 cup white chocolate chips
1 cup red and green M&M candies
1. In a large bowl, cream the butter, brown sugar, and sugar for 1-2 minutes until fluffy. Add vanilla and egg and mix well.
2. In another bowl whisk together flour, vanilla pudding mix, baking soda, and salt.
3. Gradually mix dry ingredients into wet ingredients until incorporated. Stir in most of the chocolate chips. (Reserve a few chocolate chips and the M&Ms for later)
4. Roll the dough into golf ball-sized balls. Cover and chill for at least one hour.
5. Preheat oven to 350. Line a baking sheet with parchment paper.
6. Place the balls of dough on the prepared baking sheet. Gently press remaining chocolate chips and the M&Ms into the cookie dough balls (this makes sure you can see the chips and the M&Ms after they bake!).
7. Bake for 9-12 minutes until cookies are set but still slightly underdone. Allow to cool for at least 10 minutes on the baking sheet. Transfer to a cooling rack to finish cooling completely. Store in airtight container at room temperature.
Makes about 18 cookies.