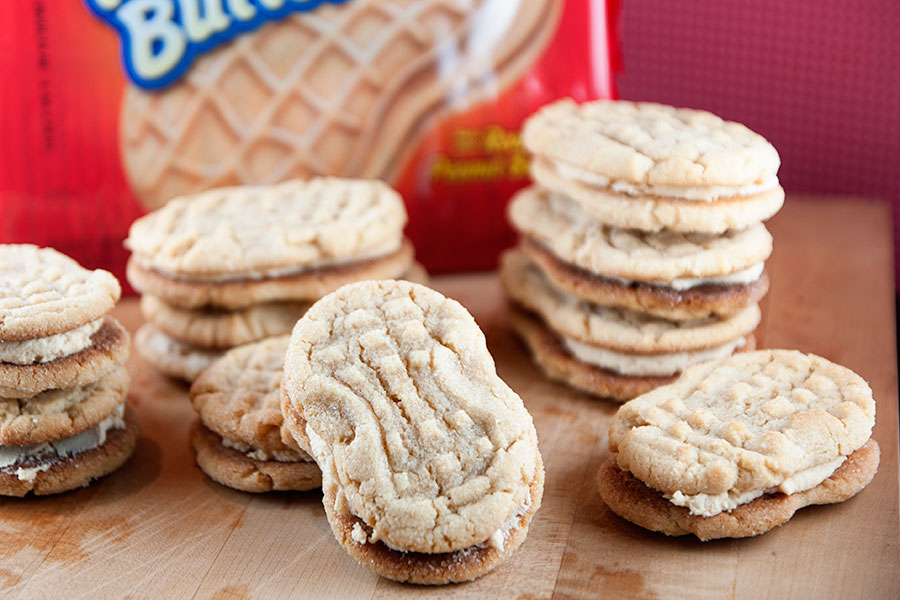 Nutter Butters are cookies that I often forget exist. Cause let's be real, if I'm in the cookie aisle I'm heading directly to the Oreos or Keebler Elves. But oh, delicious Nutter Butters, you are lovely and I'm sorry for always forgetting about you.
My law school BFF, Andrea, made these homemade Nutter Butters last fall and I ate an embarrassing amount of them while at her house (and guys, these are BIG cookies). I knew at that moment that I had to make & share them on my blog! Hope you enjoy!
Homemade Nutter Butters
Recipe source: Cookies & Cups
Print Recipe
1 cup butter, room temperature
1 cup creamy peanut butter
1 cup granulated sugar
1 cup light brown sugar, packed
2 eggs
2 tsp vanilla
2 1/2 cups flour
1 tsp baking soda
1 tsp baking powder
About 1/3 cup extra sugar for rolling
Filling:
1 cup butter, room temperature
1 cup creamy peanut butter, room temperature
4 cups powdered sugar
2-3 tablespoons milk
1. In a large bowl with mixer beat butter, peanut butter, and sugars until light and fluffy, about 30 seconds on medium-high speed. Lower mixer to medium and add eggs and vanilla continuing to mix until combined.
2. Turn mixer to low and add in flour, baking soda and baking powder. Mix until combined. 3. Refrigerate dough for 1 hour.
4. Preheat oven to 375°
5. Form chilled dough first into 1 inch balls and then form into a log shape. Roll the log-shaped dough in extra granulated sugar and place on baking sheet about 2 inches apart. Using a fork press down on cookie creating a criss-cross pattern. Pinch the center to create the peanut shape.
6. Bake for 6-8 minutes until edges are lightly golden. Cool on baking sheet 2-3 minutes and then transfer to wire rack to continue cooling.
Filling:
1. In a large bowl beat butter and peanut butter together until smooth. Slowly add in your powdered sugar and turn mixer speed up to medium and beat until filling is smooth.
2. Add your milk, one tablespoon at a time until desired consistency is reached.
3. Spread a heaping tablespoon of filling onto the bottom of one of the peanut butter cookies and then top with another cookie to create sandwich.
Makes a couple dozen cookies.