Oreos are one of my favorite store-bought cookies. But I know that they are really unhealthy, filled with preservatives and additives, and heavily processed. I still eat them from time to time, but I wanted to try to make a homemade alternative. I found this recipe on Smitten Kitchen, though it originated from Wayne Brachman's "Retro Desserts" book. And OH MY WORD are they good. They taste just like Oreos, but ten times better. I'm gonna file this one away in my list of all-time favorite recipes.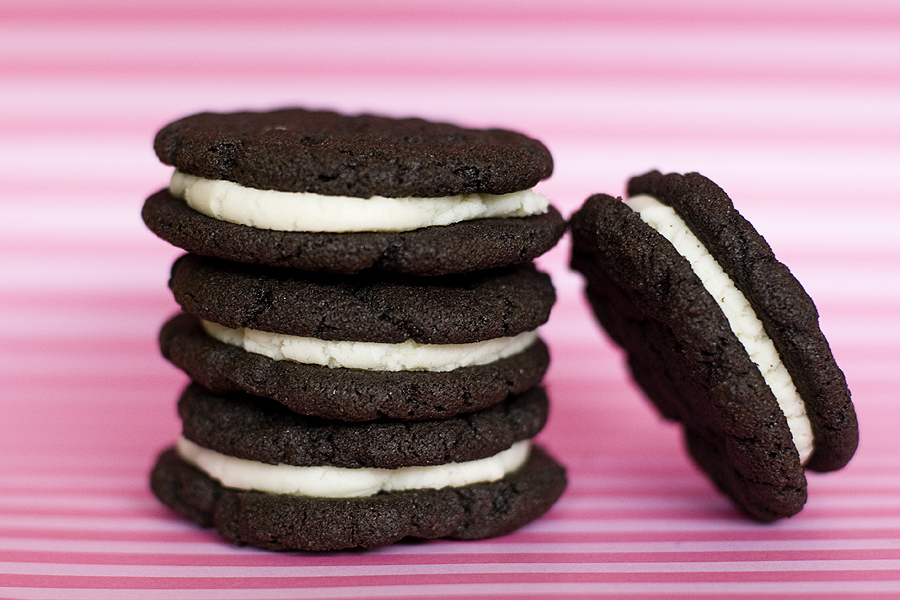 Homemade Oreos
Print Recipe
Wafers:
1-1/4 cup flour
1/2 cup unsweetened Dutch process cocoa
1 teaspoon baking soda
1/4 teaspoon baking powder
1/4 teaspoon salt
1 cup sugar (add another 1/2 cup if you want a sweeter wafer cookie)
1/2 cup + 2 tablespoons unsalted butter
1 large egg

Filling:
1/4 cup unsalted butter
1/4 cup vegetable shortening
2 cups powdered sugar, sifted
2 teaspoons vanilla
Set two racks in the middle of the oven. Preheat to 375°F.
In a food processor, or bowl of an electric mixer, thoroughly mix the flour, cocoa, baking soda and powder, salt, and sugar. While pulsing, or on low speed, add the butter, and then the egg. Continue processing or mixing until dough comes together in a mass.
Take rounded teaspoons of batter and place on a parchment paper-lined baking sheet approximately two inches apart. With moistened hands, slightly flatten the dough. Bake for 9 minutes, rotating once for even baking. Set baking sheets on a rack to cool.
To make the cream, place butter and shortening in a mixing bowl, and at low speed, gradually beat in the sugar and vanilla. Turn the mixer on high and beat for 2 to 3 minutes until filling is light and fluffy.
To assemble the cookies, in a pastry bag with a 1/2 inch, round tip, pipe teaspoon-size blobs of cream into the center of one cookie. Place another cookie, equal in size to the first, on top of the cream. Lightly press, to work the filling evenly to the outsides of the cookie. Continue this process until all the cookies have been sandwiched with cream.