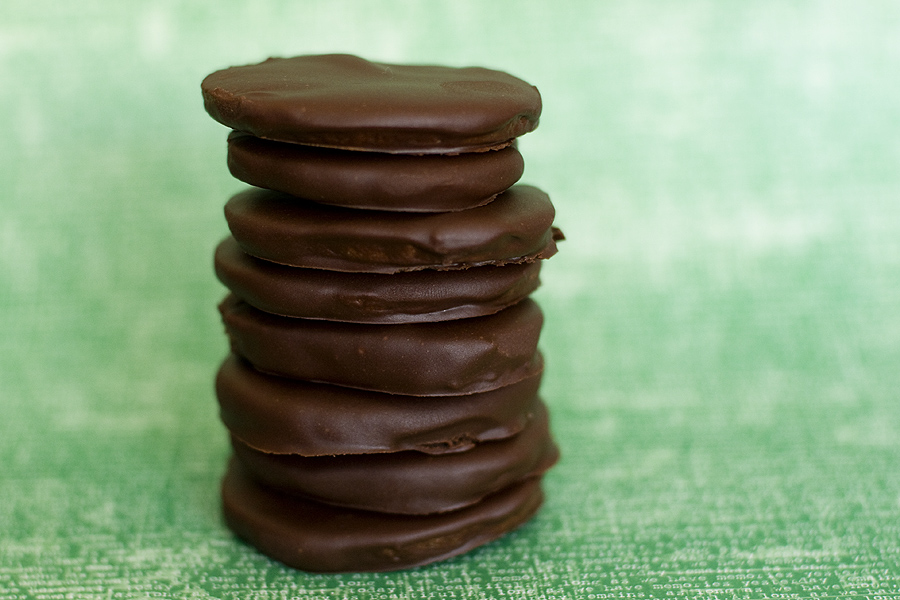 Thin Mints are the best selling Girl Scout cookie (and it's no wonder why!). Thin Mints are my second favorite and I always, always have to eat them frozen (they somehow taste more minty and more delicious that way).

Homemade Thin Mints
Recipe source: bakingbites.com
Print Recipe
2 1/4 cups all-purpose flour
1/4 cup cornstarch
6 Tablespoons unsweetened cocoa powder
1/2 teaspoon salt
1 cup white sugar
1/2 cup butter, room temperature
1/3 cup milk (any kind)
1/2 teaspoon vanilla extract
3/4 teaspoon peppermint extract
Dark chocolate coating:
10-oz dark or semisweet chocolate
1/2 cup butter, room temperature
1. In a small bowl, whisk together flour, cornstarch, cocoa powder and salt.
2. In a large bowl, cream together butter and sugar. With the mixer on low speed, add in the milk and the extracts. Mixture will look curdled. Gradually, add in the flour mixture until fully incorporated.
3. Shape dough into two logs, about 1 1/2 inches (or about 4 cm) in diameter, wrap in plastic wrap and freeze for at least 1-2 hours, until dough is very firm.
4. Preheat oven to 375F. Slice dough into rounds not more than 1/4 inch thick – if they are too thick, they will not be as crisp – and place on a parchment lined baking sheet.
5. Bake for 13-15 minutes, until cookies are firm at the edges. Cool cookies completely on a wire rack before dipping in chocolate.
6. In a double boiler, combine chocolate and butter. Melt until chocolate is smooth. Chocolate should have a consistency somewhere between chocolate syrup and fudge for a thin coating. (you can use the microwave for this step, just take care not to burn the chocolate)
7. Dip each cookie in melted chocolate, turn with a fork to coat, then transfer to a piece of parchment paper or wax paper to set up for at least 30 minutes, or until chocolate is cool and firm.
Reheat chocolate as needed to keep it smooth and easy to dip into.
Makes 3 1/2-4 dozen cookies.