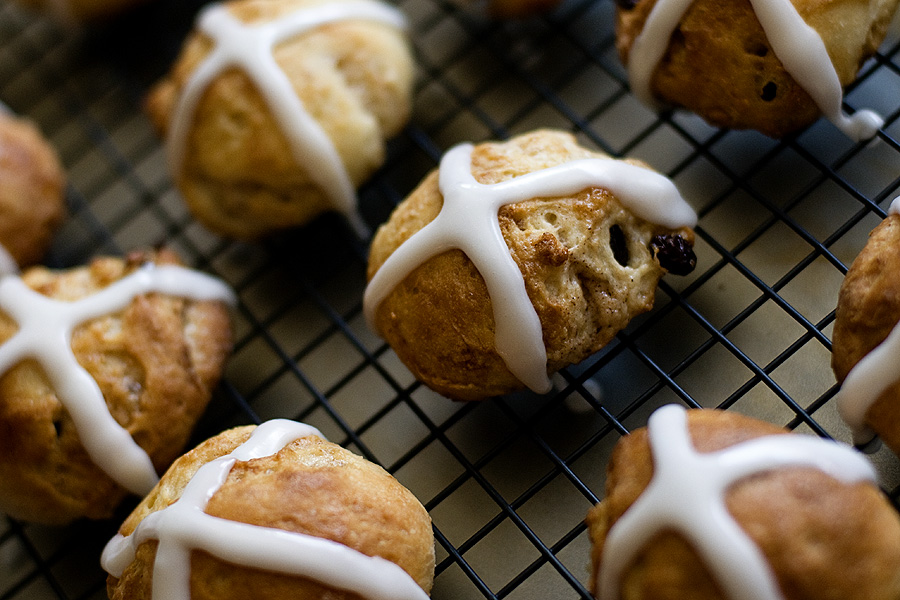 Easter is almost here! Hot cross your buns! Up until recently, I had no idea that these baked goods were tied to Easter. But I get a pass… because I'm not Christian. How was I supposed to know?! I just liked them because they involve icing and cinnamon and delicious raisins. Apparently these babies have quite the history.
The buns are traditionally eaten hot or toasted on Good Friday, with the cross standing as a symbol of the crucifixion. English folklore has many superstitions regarding the buns: if you bake them on Good Friday, they will never spoil; they can help to cure ill individuals; sharing a hot cross bun with another is supposed to ensure friendship throughout the coming year; if taken on a sea voyage they will protect against shipwreck; and if hung in the kitchen they will protect against fire.
Either way, they are delicious! And if you aren't a fan of raisins, leave them out! No worries if they are absent from the cinnamon sugary deliciousness. (also, props to Wikipedia for all of the bun-related trivia)
Hot Cross Buns
Recipe source: The Pioneer Woman
Print Recipe
For the buns:
2 cups whole milk
1/2 cup canola oil
1/2 cup sugar
1 package (2 1/4 teaspoons) active dry yeast
4 cups all-purpose flour
1/2 cups (additional) flour
1/2 teaspoon (heaping) baking powder
1/2 teaspoon (scant) baking soda
2 teaspoons salt
1/4 cup sugar
1 teaspoon cinnamon
Spices: cardamom, nutmeg, allspice (optional)
1/2 cup raisins
For the glaze:
1 whole egg white
Splash of milk
Icing:
1 whole egg white
Powdered sugar
Splash of milk
1. Combine 2 cups milk, canola oil, and 1/2 cup sugar in a saucepan. Stir and heat until very warm but not boiling. Turn off the heat and allow to cool until mixture is still warm, but not hot-about 30 minutes.
2. Sprinkle yeast over mixture. Add 4 cups of flour and stir to combine. Mixture will be very sticky. Cover with a towel and set aside for 1 hour.
3. Add 1/2 cup flour, baking powder, baking soda, and salt. Stir till combined.
4. Combine 1/4 cup sugar with cinnamon and whatever other spices you want to use.
5. Lightly flour surface. Press to slightly flatten dough. Sprinkle a couple tablespoons of the sugar/cinnamon mixture. Sprinkle on about a third of the raisins. Then fold the dough over on itself and flatten again so the dough is "plain" again. Repeat the sugar/raisin process, then fold the dough again. Repeat a third time until all the raisins are used.
6. Pinch off ping pong or golf ball-size bunches of dough. With floured hands, quickly roll it into a ball, then turn the edges under themselves slightly. Place on a lightly greased cookie sheet. Cover and allow to rise in a warm place for at least 30 minutes…an hour-plus is better. (I turned my oven on and set the pans containing the dough on top of the stove – it gets them all warm 'n' cozy!)
7. If you haven't done it already, preheat the oven to 400F.
8. Mix 1 egg white with a splash of milk. Brush onto each roll.
9. Bake for 20 minutes, give or take, or until tops of buns have turned nice and golden brown. Remove from pan and allow to cool on a cooling rack.
10. Mix 1 egg white with enough powdered sugar for icing to be very thick. Splash in milk as needed for consistency. Add icing to a small Ziploc bag and snip the corner. Make icing crosses on each roll, making sure they're completely cooled first.