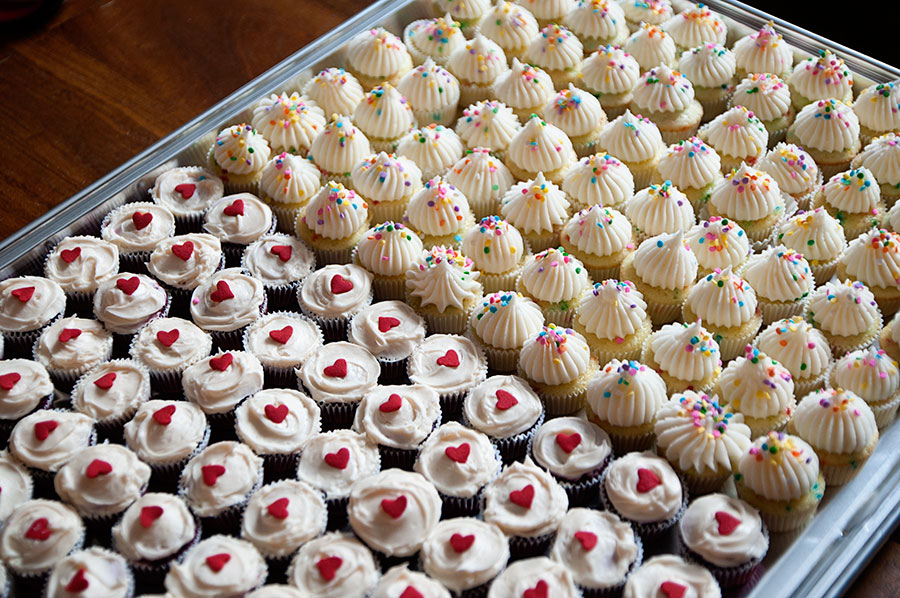 Okay, so I didn't make a million cupcakes. Just 500 mini cupcakes. I was asked to donate all these cupcakes to my law school's public interest auction. One of my law school BFFs asked, so how could I say no?! But let me tell you: this was an overwhelming task. I couldn't just take a day off from school to bake, so here are my tips for making A LOT of cupcakes in not much time!
When feeding the masses, stick with well-loved flavors.  I made chocolate, funfetti, red velvet, mint, and peanut butter. This is not the time to experiment with banana creme or raspberry white chocolate.
For the love of christ, use box mixes! I know, I know, I know, some of you think that nothing in the world could be more offensive than a box cake mix. But here's the deal: you don't have much time, box mixes are cheap, and most importantly, box mixes are really reliable.
…but make your own icing! The icing can be made a few days in advance and stored in air-tight containers. I made a batch or two of icing each day leading up to the day I baked the cupcakes.
Do not make the cupcakes too far in advance. I made all of the cupcakes the night before our auction. You want them to be as fresh as possible and the only way to do that is to stay up late the night before the event.
Enlist help if possible. Thank youuuu x1,000, Andrea!
With food (and many other things in life), appearance is really important. Try your best to make your cupcakes look good. Cause that's what is going to make people want to eat them.
Garnish! I used sprinkles to decorate the chocolate and funfetti cupcakes. I cut up a bunch of Andes mints to use for the mint cupcakes. I dipped the peanut butter cupcakes into Butterfinger crumbles. And I placed a red Wilton heart on each red velvet cupcakes. All of these options were cheap and easy to do.
Transporting these babies was a challenge. I bought three really big trays at a local baking shop — and had friends help me take the cupcakes to school (cause someone had to hold them steady while I drove!).
That's it!