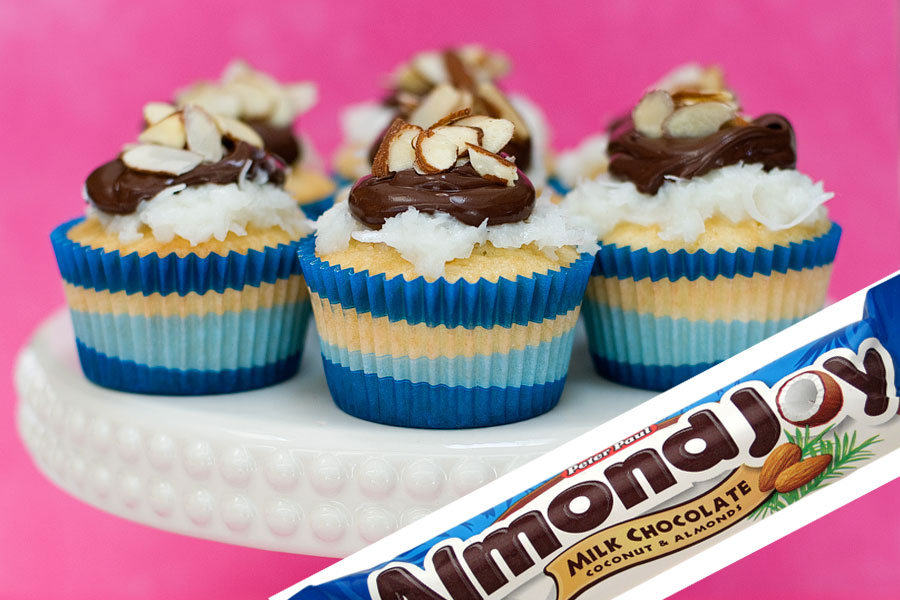 I don't like coconut [as I have mentioned 3,409 times on this blog so far – ha!]. So let's jump right into learning a bit about the Almond Joy!
Almond Joy is produced by Hershey and its sister product is the Mounds bar (dark chocolate, no almond).
The Almond Joy bar was introduced by Peter Paul in 1946.
The "Sometimes you feel like a nut / sometimes you don't / Almond Joy's got nuts / Mounds don't" jingle has been around since 1970.
Although Peter Paul as a company no longer exists, the name is still featured on the Almond Joy wrapper.
Almond Joy bars have been referenced in TV and movies. On Weeds, the Almond Joy was the favorite candy bar of Nancy's late husband, Judah. Parks and Recreation's Ron Swanson inquires of there are any other candies available at Ann's party besides Almond Joy, as he is allergic to almonds. Lisa Simpson bought an Almond Joy bar at the Kwik-e-Mart before a playdate.
In the 2000s, Hershey began introducing new and limited-editions of the bar: pina colada, double chocolate, white chocolate key lime, milk chocolate passion fruit, and toasted coconut have all been featured Almond Joy flavors. [all trivia taken from Wikipedia]
Almond Joy Cupcakes
Recipe source: Food Network Magazine Jan/Feb 2010
Print Recipe
For the cupcakes:
2 large eggs plus 4 egg whites, at room temperature
1 cup cream of coconut (I found this in the Mexican food aisle at the grocery store)
1 teaspoon coconut extract
1 teaspoon vanilla extract
2-1/4 cups cake flour, sifted
1 cup granulated sugar
2 teaspoons baking powder
1/2 teaspoon salt
12 Tablespoons unsalted butter, cut into pieces, at room temperature
For the topping:
2 cups whole milk
1 14-oz bag of shredded coconut
1 Tablespoon powdered sugar
1/2 teaspoon vanilla extract
Pinch of salt
For the glaze & garnish:
6 oz. bittersweet chocolate, finely chopped
3 Tablespoons light corn syrup
1 Tablespoon unsalted butter
48 roasted almonds, for garnish (I used sliced almonds instead)
1. Make the cupcakes: Preheat the oven to 325F and line two 12-cup muffin pans with paper liners. Whisk the whole eggs and egg whites in a large bowl. Whisk in the cream of coconut and the coconut and vanilla extracts until smooth.
2. Whisk the flour, sugar, baking powder, and salt in a large bowl. Beat in the butter, one piece at a time, with a mixer on low speed until the mixture resembles a coarse meal (about 3-4 minutes). Add half of the egg mixture, increase the speed to medium-high and beat until fluffy, about 1 minute. Beat in the remaining egg mixture until combined, scraping down the bowl as needed.
3. Divide the batter among the prepared cups, filling each about halfway. Bake until a toothpick comes out clean — about 18-22 minutes. Let cool in the pans 10 minutes; transfer to racks and cool completely.
4. Make the topping: Combine the milk, coconut, powdered sugar, vanilla, and salt in a medium saucepan. Bring to a simmer over medium-high heat and cook until the milk is absorbed and the mixture thickens, stirring occasionally, about 15 minutes. Cool completely. (this took longer than 15 minutes for me — and I had to add extra powdered sugar to get the mixture to thicken)
5. Make the glaze: Put the chocolate, corn syrup, butter, and 3 Tablespoons hot water in a microwave-safe bowl; cover and microwave on 50% powder until the chocolate melts (about 2 minutes). Whisk to combine. Keep warm.
6. Top each cupcake with a heaping Tablespoonful of the coconut mixture, pressing gently until compact. Spoon 1 teaspoon glaze on top and garnish with almonds. Refrigerate until the glaze sets, about 20 minutes.
Makes about 24 cupcakes.