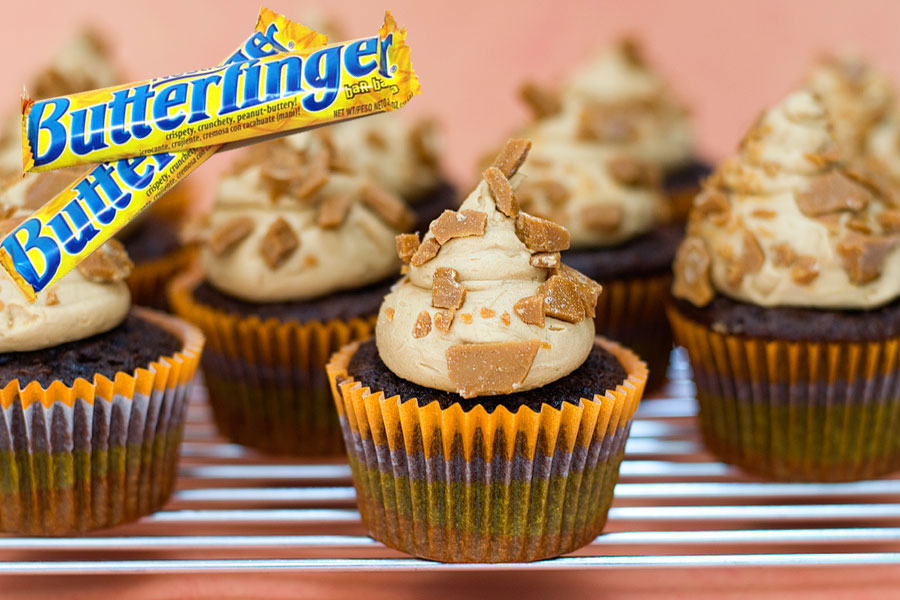 Can anyone look at a Butterfinger bar and NOT think of Bart Simpson?! More on that in a minute. I LOVE Butterfingers – even though the crunchy filling gets stuck in my teeth. The crunchy filling is a little mysterious. What is it, really? It's not quite peanut brittle. It's not quite caramel. Huh. Also, something to note, the bar is not coated in chocolate. It's coated in something called compound chocolate, which is a less-expensive alternative to real chocolate. Despite the nebulous filling and the fake chocolate, I still love to snack on a Butterfinger bar once in a while!
Butterfingers are produced by Nestle but were invented by the Curtiss Candy Company in 1923.
The Curtiss Candy Company held a public contest to choose the name of the candy bar. Butterfinger won.
Bart Simpson (and other characters from the Simpsons) appeared in advertisements for Butterfinger from 1990-2001. I can still remember Bart yelling, "Nobody better lay a finger on my Butterfinger!"
Butterfinger terminated their advertising contract with the Simpsons in 2001. The producers of the Simpsons expressed their disappointment by making fun of the candy bar in an episode called "Sweets and Sour Marge." [all trivia taken from Wikipedia]
Butterfinger Cupcakes
Recipe source: Food Network Magazine Jan/Feb 2010
Print Recipe
For the cupcakes:
3 sticks unsalted butter, cut into pieces
1 cup Dutch-process cocoa powder
3-1/4 cups packed dark brown sugar
3 cups all-purpose flour
1 teaspoon baking powder
1/2 teaspoon baking soda
3/4 teaspoon salt
1-1/4 cups buttermilk
2 large eggs, at room temperature
2 teaspoons vanilla extract
For the brittle:
1/2 cup granulated sugar
1/4 cup creamy peanut butter
1/4 cup butterscotch chips
For the frosting:
1 cup heavy cream
2 10 oz. bags peanut butter chips
1. Make the cupcakes: Preheat oven to 350F and line two 12-cup muffin pans with paper liners. Put the butter, cocoa powder, and 3/4 cup water in a microwave-safe bowl; cover and microwave until the butter melts (about 2 minutes). Whisk to combine, then whisk in the brown sugar.
2. Whisk the flour, baking powder, baking soda, and salt in a large bowl. Whisk in the warm cocoa mixture. In another bowl, beat the buttermilk, eggs, and vanilla; stir into the batter until just combined but don't overmix.
3. Divide the batter among the prepared cups, filling each 3/4 of the way. Bake until the cupcakes are slightly domed and spring back when lightly pressed – about 25-30 minutes. Let cool in pan for 10 minutes, then transfer to a wire rack to cool completely.
4. Make the brittle: line a baking sheet with parchment paper. Place the granulated sugar in a small saucepan over medium-high heat, bring to a boil and cook, swirling the pan but not stirring, until it turns amber. Remove from the heat; stir in the peanut butter and butterscotch chips until smooth. Immediately pour the mixture onto the prepared baking sheet, smooth into a thin layer, and let cool. Break the brittle into pieces, place in a resealable bag, and crush with a rolling pin.
5. Make the frosting: bring the cream to a simmer in a small saucepan. Remove from the heat, add the peanut butter chips and let stand about 5 minutes. Whisk until smooth. Place the pan over a bowl of ice, stirring occasionally, until the frosting is spreadable (about 10 minutes). Spread on the cupcakes or transfer to a pastry bag with a large round tip and pipe on top; sprinkle with the peanut brittle.
Makes about 24 cupcakes.