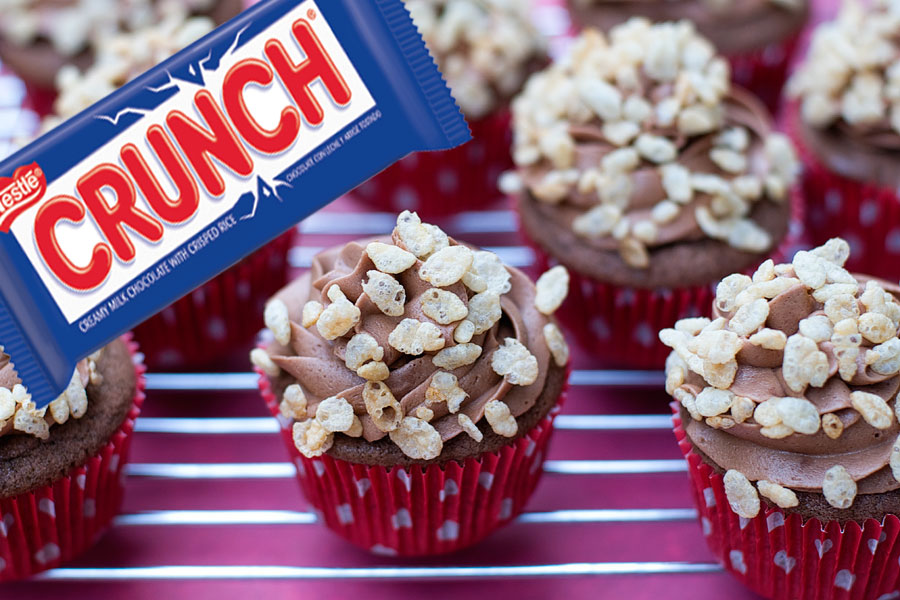 Buncha Crunch is my favorite snack at the movies (and apparently it was a snack exclusive to movie theaters until going into retail this past May!). Mini Crunch bars are also one of my favorite Halloween candies. There isn't a whole lot of trivia and information about this particular candy bar. It was introduced in 1937 and is produced by Nestle. Nestle recently discontinued the original packaging of the bar (wrapping it in aluminum foil, sleeved inside a paper label) and transitioned to a more efficient polyester film packaging. (see… I told you there isn't much interesting trivia out there!)
Hope you've all enjoyed the candy-themed cupcakes!
Crunch Cupcakes
Recipe source: Food Network Magazine Jan/Feb 2010
Print Recipe
For the frosting:
2/3 cup sugar
1 teaspoon light corn syrup
3 cups heavy cream
3 Tablespoons unsalted butter
7 ounces milk chocolate, chopped
4 ounces bittersweet chocolate, chopped
1/2 teaspoon kosher salt
For the cupcakes:
2 cups all-purpose flour
1 Tablespoon baking powder
3/4 teaspoon fine salt
1 cup malted milk powder
3/4 cup Dutch-process cocoa powder
1-1/3 cups sugar
1 stick unsalted butter, at room temperature
4 large eggs, at room temperature
1-3/4 cups half-and-half
1-1/2 cups Rice Krispies
1. Make the frosting: Sprinkle the sugar evenly in a large skillet and add the corn syrup. Bring to a boil over medium heat, stirring once or twice. Continue to boil, swirling the pan but not stirring, until the caramel is amber. Carefully pour in the heavy cream and add the butter. Simmer, whisking constantly, until the caramel is smooth (about 2 minutes).
2. Combine both chocolates and the salt in a medium heatproof bowl. Pour the hot caramel over the chocolate and let stand until melted (about 5 minutes). Whisk until smooth and shiny, then cover and refrigerate until set, at least 4 hours or overnight.
3. Make the cupcakes: Preheat oven to 375F and line two 12-cup muffin pans with paper liners. Whisk the flour, baking powder, and salt in a bowl. Sift the malted milk and cocoa powders into another bowl.
4. Beat the sugar and butter in a third bowl with a mixer until light and fluffy (about 7 minutes). Add the malted milk powder mixture and beat until combined. Add the eggs, one a time, beating well after each addition. With the mixer on low speed, add the flour mixture in three parts, alternating with the half-and-half in two parts, beginning and ending with flour.
5. Divide the batter evenly among the prepared cups, filling each about 3/4 of the way. Bake until a toothpick comes out clean – about 15-20 minutes. Let cool in pans 10 minutes, then transfer the cupcakes to racks to cool completely.
6. Beat the chilled frosting with a mixer or whisk until thick (about 2 minutes), but don't overwhip. Spread on the cupcakes or transfer to a pastry bag with a star tip and pipe on top. Refrigerate until ready to serve, then sprinkle with the cereal.
Makes about 24 cupcakes.