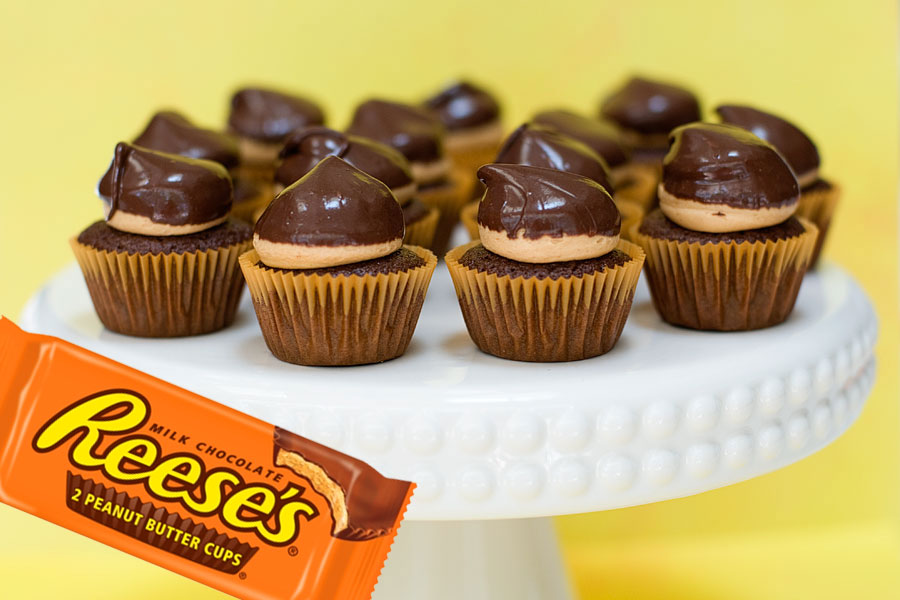 I think that the Reese's peanut butter cup may be my favorite candy of all time. Cause let's be real, not much is better than the combination of peanut butter and chocolate. A step up is the dark chocolate Reese's. Yet another step up? The Easter egg peanut butter cup. The eggs somehow taste even better — how is that possible? A changed chocolate-to-peanut butter ratio? In any case, these cupcakes are a tasty replica of the classic Reese's flavor.
 The Reese's peanut butter cup was created in 1923 by H. B. Reese, a former dairy farmer and shipping foreman for Milton Hershey.
After being inspired by Hershey's success, H. B. Reese started his own candy company in the basement of his Hershey, PA home — and used Hershey chocolate to make his candies.
The H. B. Reese Candy Company was sold to Hershey in 1963.
Countless variations of the classic peanut butter cup are produced: miniatures, dark chocolate, white chocolate, big cups, unwrapped miniatures, caramel, marshmallow, peanut butter eggs, peanut butter hearts, peanut butter pumpkins.. the list goes on.
Hershey licenses the Reese's name to other companies for the production of other products: General Mills' Reese's Puffs and ice creams by Breyer's, Baskin Robbins, and Dairy Queen. [all trivia from Wikipedia]
Reese's Peanut Butter Mini Cupcakes
Recipe source: Food Network Magazine Jan/Feb 2010
Print Recipe
For the cupcakes:
12 Tablespoons unsalted butter, cut into pieces
1/2 cup Dutch-process cocoa powder
1-1/3 cups packed dark brown sugar
1-1/3 cups all-purpose flour
1/2 teaspoon baking powder
1/4 teaspoon baking soda
1/2 teaspoon salt
1/3 cup buttermilk
1 large egg, at room temperature
1 teaspoon vanilla extract
For the topping:
1/2 cup heavy cream
1 10 oz. bag peanut butter chips
(you may also need a bit of powdered sugar, more on that in the instructions below)
For the glaze:
1 Tablespoon unsalted butter
6 oz. milk chocolate, finely chopped
1. Make the cupcakes: Preheat oven to 350F and line a 24-cup mini muffin pan with paper liners. Combine the butter, cocoa powder, and 1/4 cup water in a microwave-safe bowl, cover and microwave until the butter melts (about 2 minutes). Whisk to combine, then whisk in the brown sugar.
2. Whisk the flour, baking powder, baking soda, and salt in a large bowl. Whisk in the warm cocoa mixture. In another bowl, whisk the buttermilk, egg, and vanilla; stir into the batter until just combined but don't overmix.
3. Divide the batter among the prepared cups, filling each 3/4 of the way. Bake until the cupcakes spring back when touched (about 15-20 minutes). Let cool in the pan 5 minutes, then transfer to a rack to cool completely.
4. Make the topping: bring the cream to a simmer in a small saucepan, then pour over the peanut butter chips in a bowl and let stand until the chips melt (about 5 minutes). Whisk until smooth. If the mixture is too thin, add some powdered sugar to thicken. Refrigerate until the topping is set, about 10 minutes, then beat with a mixer until fluffy. Transfer to a pastry bag with a 1-inch round tip and pipe topping onto each cupcake. Place in the freezer while you make the glaze [I skipped this step and they worked out fine].
5. Make the glaze: put the butter, chocolate, and 3 Tablespoons hot water in a small, deep microwave-safe bowl, cover and microwave on 50% power until the chocolate melts, about 2 minutes. Whisk until smooth. Dip the peaks of each cupcake into the glaze, letting the excess drip off. Refrigerate until set, about 5 minutes.
Makes about 24 mini cupcakes.