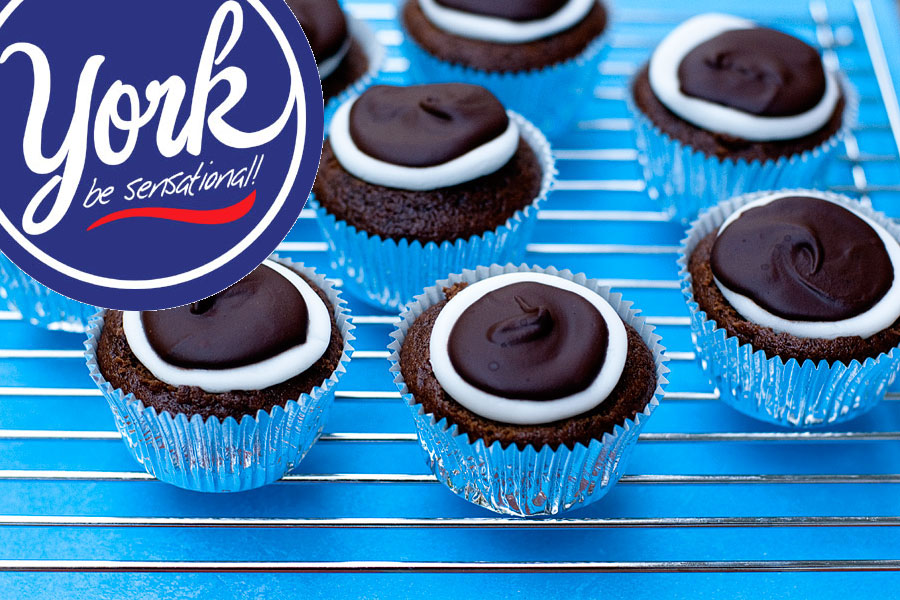 Today marks the start of a series of cupcake recipes that mimic popular candy bars. I saw these ideas in Food Network Magazine a few years ago and knew that I had to try them all. Every Monday for the next six weeks I'll post a new candy-inspired cupcake recipe — plus a little candy trivia for each.
The first in the series is the York Peppermint Pattie cupcake!
York Peppermint Patties are produced by the Hershey Company.
The pattie was first produced by the York Cone Company in 1940. The product was sold nationwide after the York Cone Company was acquired by the Peter Paul Candy Manufacturing Company in the 1970s.
Peter Paul merged with Cadbury Schweppes in 1978 — and the Hershey Company acquired Cadbury Schweppes in 1988.
Production of the York Peppermint Pattie currently takes place in Mexico.
A signature of the pattie is the distinctive, yet quiet, noise that it makes when broken in half. [all trivia found on Wikipedia]
York Peppermint Pattie Cupcakes
Recipe source: Food Network Magazine Jan/Feb 2010
Print Recipe
For the cupcakes:
3 sticks unsalted butter, cut into pieces
1 cup Dutch-process cocoa powder
3-1/4 cups packed dark brown sugar
3 cups all-purpose flour
1 teaspoon baking powder
1/2 teaspoon baking soda
3/4 teaspoon salt
1-1/4 cups buttermilk
2 large eggs, at room temperature
2 teaspoons vanilla extract
For the topping:
1 pound (about 4 cups) powdered sugar
1/2 cup light corn syrup
1/4 cup vegetable shortening
2 teaspoons peppermint extract
For the glaze:
8 oz. bittersweet chocolate, finely chopped
1/4 cup light corn syrup
1-1/2 Tablespoons unsalted butter
1. Make the cupcakes: preheat oven to 350F. Line two 12-cup muffin pans with paper liners. Put the butter, cocoa powder, and 3/4 cup water in a medium microwave-safe bowl, cover and microwave until the butter melts (about 2 minutes). Whisk to combine, then whisk in the brown sugar.
2. Whisk the flour, baking powder, baking soda, and salt in a large bowl. Whisk in the warm cocoa mixture. In another bowl, whisk the buttermilk, eggs, and vanilla; stir into the batter until just combined but don't overmix.
3. Divide the batter among the prepared cups, filling each about 3/4 of the way. Bake until the cupcakes spring back when touched, 30 to 35 minutes. Let cool in the pans 10 minutes, then transfer to racks to cool completely.
4. Make the topping: Beat the powdered sugar, corn syrup, shortening, and peppermint extract with a mixer until a tight paste forms. Gather into a ball, place between two sheets of parchment paper and roll out to 1/4 inch thick. Use a 2-1/2-inch round cutter or juice glass to cut into disks; reroll the scraps. Place a peppermint disk on top of each cupcake.
5. Make the glaze: Put the chocolate, corn syrup, butter, and 1/4 cup water in a microwave-safe bowl, cover and microwave on 50% power until the chocolate melts (about 2 minutes). Whisk to combine, then cool slightly. Spread the glaze over the peppermint topping, leaving some peppermint exposed. Refrigerate until set, at least 20 minutes. Serve cold.
Makes about 24 cupcakes.