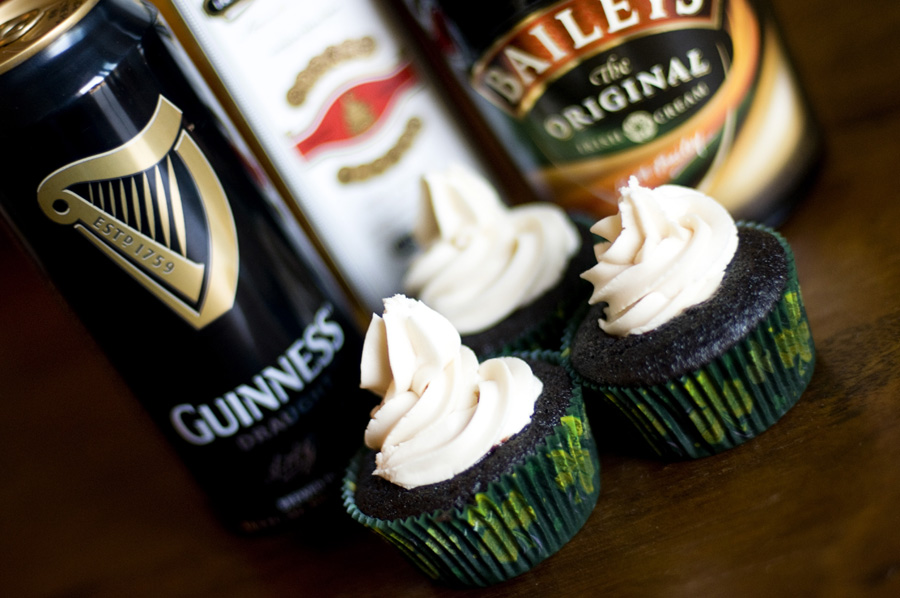 St. Patrick's Day is mere hours away – the day where we all get to be Irish, eat corned beef, and maybe even drink green beer. And this year, I can eat Irish Car Bombs in cupcake form. Enjoy the sugar high and not the hangover :)
Irish Car Bomb Cupcakes
Recipe Source: Smitten Kitchen
Print Recipe
Cupcakes
1 cup Guinness
1 cup unsalted butter
3/4 cup unsweetened cocoa powder
2 cups flour
2 cups sugar
1-1/2 teaspoons baking soda
3/4 teaspoon salt
2 large eggs
2/3 cup sour cream
1. Preheat oven to 350F.
2. Bring 1 cup stout and 1 cup butter to simmer in a large saucepan over medium heat. Add cocoa powder and whisk until mixture is smooth. Cool slightly.
3. Whisk flour, sugar, baking soda, and 3/4 tea. salt in large bowl to blend.
4. In another bowl, beat eggs and sour cream together with an electric mixer.
5. Add the stout-chocolate mixture to the egg mixture and beat just to combine.
6. Add flour mixture and beat briefly on slow speed. Using a rubber spatula, fold batter until completely combined.
7. Fill the lined cupcake pans 2/3 to 3/4 of the way full. Bake 17 minutes or until tester comes out clean. Cool completely on a rack.
Ganache Filling
4 oz. bittersweet baker's chocolate
1/3 cup heavy whipping cream
1 tablespoon butter at room temperature
1 teaspoon Irish Whiskey
1. Chop the chocolate and transfer it to a heat-proof bowl.
2. Heat the cream until simmering and pour it over the chocolate. Let it sit for 1 minute and then stir until smooth. This should sufficiently melt the chocolate — if not, use the microwave to help things along.
3. Add the butter and whiskey and stir until combined.
4. Let the ganache cool and thicken. Meanwhile, using a knife, cut out 1-inch circles in the cupcakes. Remove the centers of the cake, going about 2/3 of the way down into the cupcake.
5. Put the ganache in a piping bag with a wide tip and fill the holes in each cupcake to the top.
Frosting
3 to 4 cups powdered sugar
1 stick unsalted butter at room temperature
3 to 4 tablespoons Bailey's
1. Cream the butter with an electric mixer.
2. Gradually add the powdered sugar
3. Add the desired amount of Bailey's (or milk, if you don't like Baileys) to the frosting to make it a little creamier.
4. Ice the cupcakes and decorate.