Today's treat: Jumbo 3-Chip Cookies. Recipe credit goes to Nestle Tollhouse (daaaaang, they have some GREAT recipes). And since someone asked, I will share that these cookies are crunchy on the outside and soft/chewy on the inside.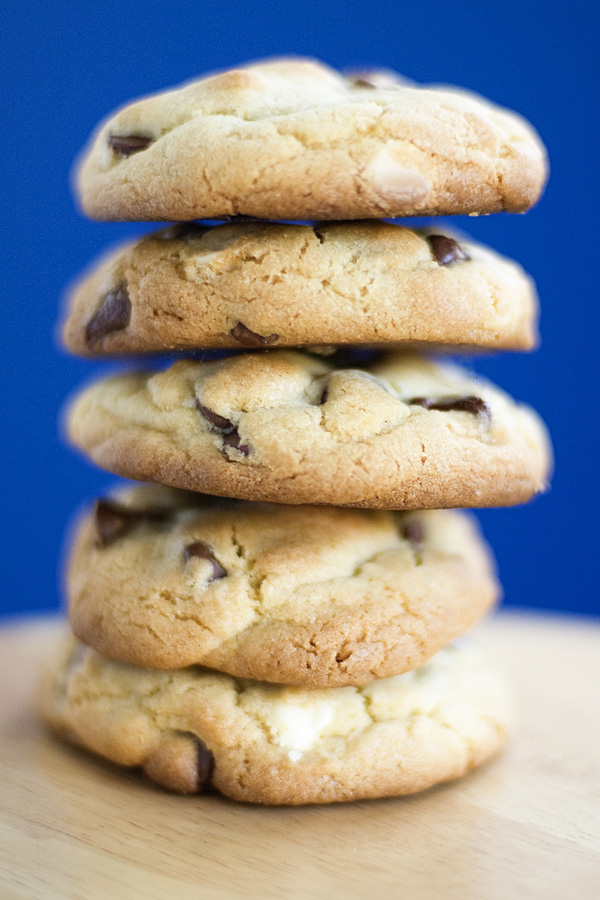 The 50mm made these cookies look like they have a magical, warm, fuzzy aura around them. Which they do… an aura of deliciousness.
Jumbo 3-Chip Cookies
Print Recipe
4 cups flour
1 tsp baking soda
1 tsp baking powder
1-1/2 cups softened butter
1-1/4 cups sugar
1-1/4 cups packed brown sugar
2 large eggs
1 tbsp vanilla extract
1 cup chocolate chips
1 cup semisweet chocolate chips
1 cup white chocolate chips
1 cup chopped nuts (optional)
Preheat oven to 375. Combine flour, baking power, and baking soda. In a separate bowl, beat butter, sugar, and brown sugar until creamy. Beat in the eggs and vanilla. Gradually beat in the flour mixture. Stir in the chocolate chips and nuts. Drop 1/4 cup dough onto a cookie sheet and bake 12-14 minutes.