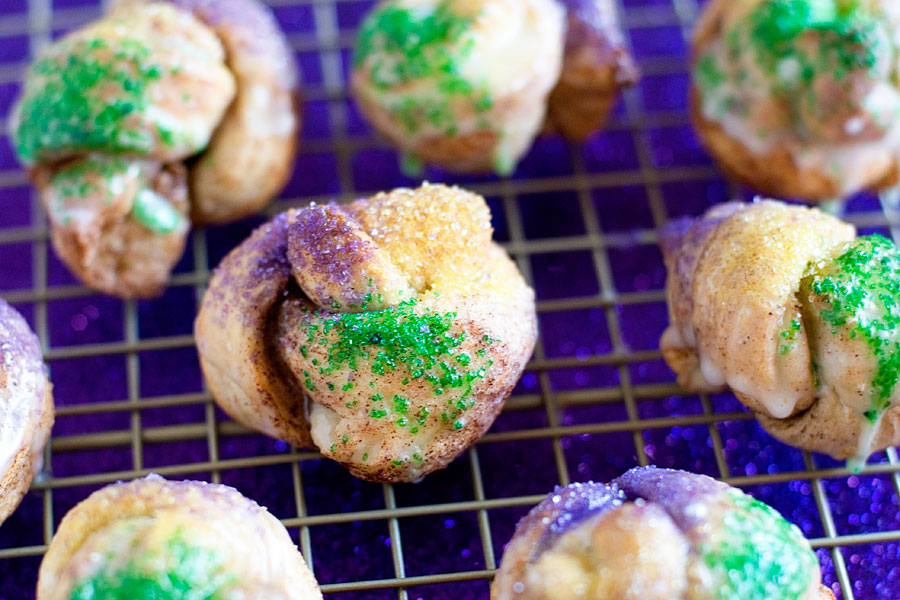 Mardi Gras is next week! Get those beads out and fire up the stove to make some jambalaya! A few years ago I made a big, traditional king cake. This year, I wanted something more simple. Pinterest pointed me in the direction of these simple king cake knots, which are made using store-bought refrigerated dough. Check back in the coming days, as I also have a post for king cake monkey bread!
King Cake Knots
Recipe source: PlainChicken.com
Print Recipe
1 loaf refrigerated french bread dough (I used Pillsbury)
3 Tablespoons butter, softened
1/4 cup sugar
1 Tablespoon cinnamon
1 cup powdered sugar
4 teaspoons milk (may need a bit more to get the right consistency)
1/2 teaspoon vanilla
Green, yellow, purple decorating sugar
1. Preheat oven to 350F. Unroll French bread dough into a large rectangle, about 16 x 12 inches. Brush the dough lightly with softened butter. Mix together sugar and cinnamon and sprinkle over butter.
2. Cut the dough in half lengthwise and then cut crosswise into strips, about 1-1/4 inches wide. Tie each strip into a knot and place on baking sheet. Bake for 25-28 minutes. Cool on a wire rack.
3. Mix together powdered sugar, milk, and vanilla. Dip each knot into icing and decorate with sprinkles.