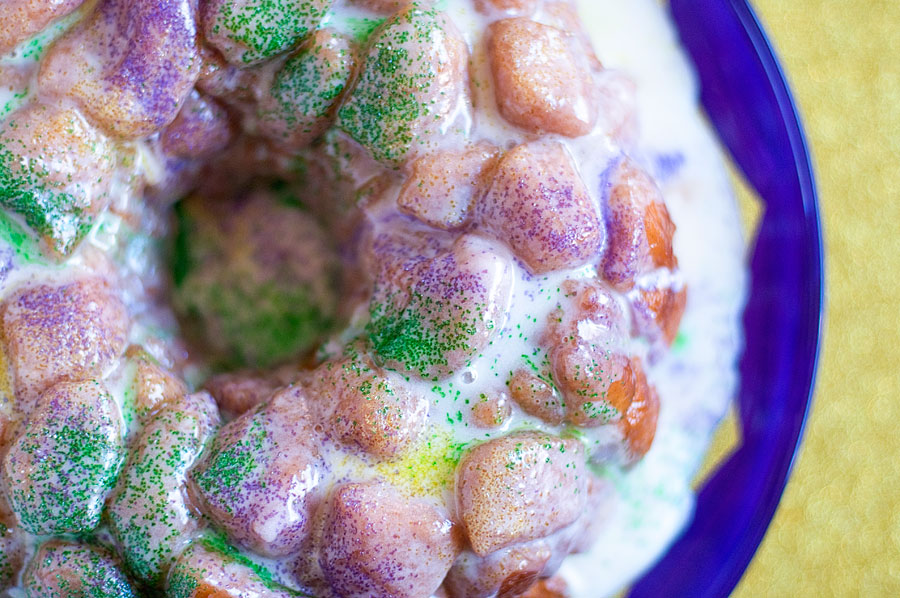 Oh, monkey bread, you are perfect. Oooey, gooey, warm, doughy… just perfect. And monkey bread is easy to make! Throw a bunch of stuff in a bundt pan, bake, and you're done. Anyone know why it's called monkey bread though?!
Edit: Yes, I know, this isn't REAL king cake. Yes, I know, this is monkey bread. Yes, I know, I am less of a food blogger because I used refrigerator biscuits. Yes, I know, nothing could be more of a world crisis than making a Mardi Gras-themed treat that isn't perfectly accurate. Relax, breathe, and be zen, guys. It's just sugar. :)
King Cake Monkey Bread
Recipe source: Babble.com
Print Recipe
4 tubes refrigerator biscuits [buy the plain Pillsbury biscuits, not the flaky biscuits! the plain biscuits will come in packs of 4 and the tubes are small]
1-1/2 teaspoons cinnamon
1-3/4 cups sugar, separated
1/4 cup brown sugar
1/4 cup evaporated milk
3/4 cup butter
1. Preheat oven to 350F and spray a bundt pan with nonstick spray.
2. Mix the cinnamon with 3/4 cup sugar. Cut each biscuit into 4 pieces and roll in cinnamon sugar mix. Layer in prepared bundt pan.
3. Mix 1 cup sugar, brown sugar, evaporated milk, and butter in saucepan; bring to boil and pour over the biscuits. Bake for 30-45 minutes. [the baking time can really vary; check the pan often to see how things are progressing and remove from oven when all of the biscuit pieces appear to be fully cooked]
4. Remove from oven and allow to cool on the stovetop for a few minutes, then carefully invert onto a plate or cake stand.
For the icing:
4 cups powdered sugar
1/2 cup heavy cream
1 teaspoon vanilla
Colored sprinkles for decorating
Mix the sugar, cream, and vanilla together. I added a bit more cream to give the frosting a thinner consistency (personal preference — you can definitely leave the frosting thick and as-is! I just wanted more of a glaze). Spread over warm monkey bread and decorate with sprinkles. Serve immediately.