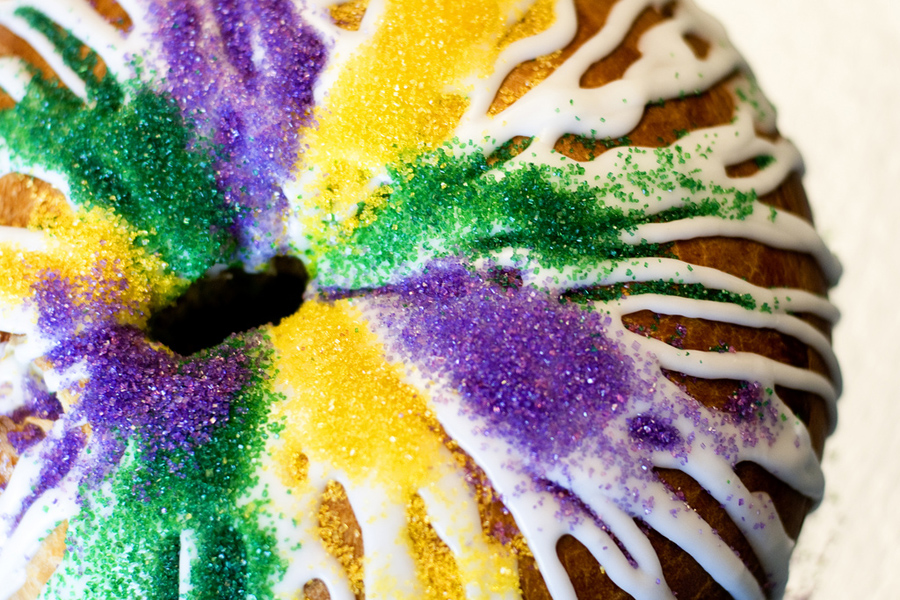 Mardi Gras is ONE WEEK from today! I have never been to New Orleans to celebrate, but it's something that I hope to do next year! In the meantime, I will eat my weight in delicious king cake. This dessert is more like a giant cinnamon roll than it is a cake. For all of you history nerds, here's the story behind this wonderful treat:
"As part of our Christian faith, the coming of the wise men bearing gifts to the Christ Child is celebrated twelve days after Christmas. We refer to this as the Feast of the Epiphany or Little Christmas on the Twelfth Night. This is a time of celebration, exchanging gifts and feasting. Today, the tradition continues as people all over the world gather for festive Twelfth Night celebrations. A popular custom was and still is the baking of a special cake in honor of the three kings called "A King's Cake. Inside every cake is a tiny baby (generally plastic now, but sometimes this baby might be made of porcelain or even gold). The tradition of having King Cake Parties has evolved through time, and the person who receives the slice of cake with the baby is asked to continue the festivities by hosting the next King Cake party. Originally, King Cakes were a simple ring of dough with a small amount of decoration. Today's King Cakes are much more festive. After the rich Danish dough is braided and baked, the "baby" is inserted. The top of the ring or oval cake is then covered with delicious sugar toppings in the traditional Mardi Gras colors of purple, green and gold." — mardigrasneworleans.com
But now, onto the recipe! I will be the first to admit that I am not an experienced bread maker. I tried my best on this and it worked out really, really well! I included my notes, in italics, that helped me through the process. :) Hopefully my notes will encourage those of you who have never made bread to give it a shot!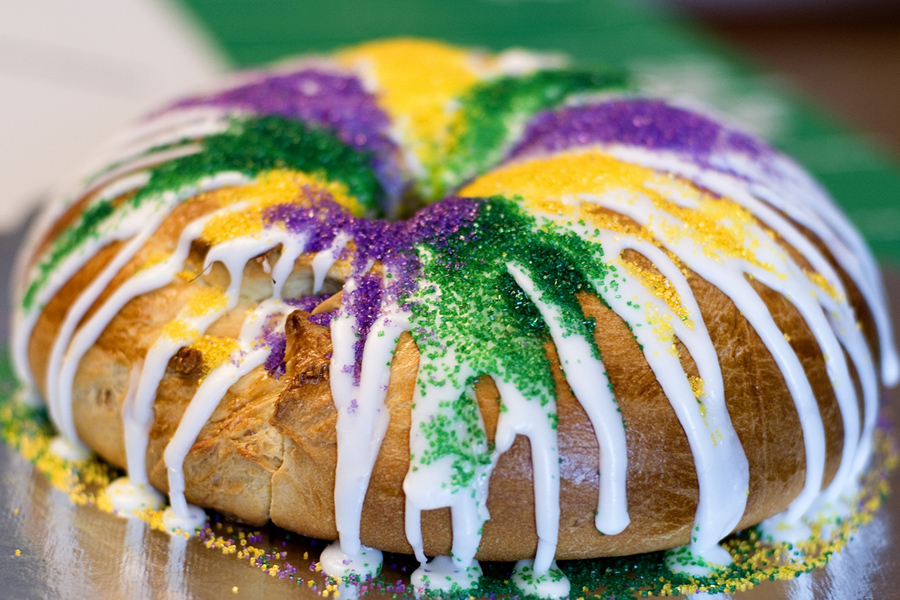 Traditional New Orleans King Cake
Recipe Source: Taste of Home
Print Recipe
2 packages (1/4 ounce each) active dry yeast
1/2 cup warm water (110° to 115°)*
3/4 cup sugar, divided
1/2 cup butter, softened
1/2 cup warm 2% milk (110° to 115°)*
2 egg yolks
1-1/4 teaspoons salt
1 teaspoon grated lemon peel
1/4 teaspoon ground nutmeg
3-1/4 to 3-3/4 cups all-purpose flour
1 teaspoon ground cinnamon
1 egg, beaten
*I didn't have a thermometer that would read in the 110-115 range, so I touched the water to my wrist – when it was hot enough, but not painful, it was okay to use. Water that is too hot will kill the yeast, so err on the side of caution! I'm going to buy a kitchen thermometer for future use!
GLAZE:
1-1/2 cups confectioners' sugar
2 teaspoons lemon juice
2 to 3 tablespoons water
Green, purple and yellow sugars
1. In a large bowl, dissolve yeast in warm water. Add 1/2 cup sugar, butter, milk, egg yolks, salt, lemon peel, nutmeg and 2 cups flour. Beat until smooth. Stir in enough remaining flour to form a soft dough.
You want to add just enough flour so that the dough holds together and isn't soupy or too much like a batter. The dough will be very "sticky" when you've added enough flour.
2. Turn onto a floured surface; knead until smooth and elastic, about 6-8 minutes. Place in a greased bowl, turning once to grease the top. Cover and let rise in a warm place until doubled, about 1 hour.
Kneading is done to add strength to the bread. It will stretch the gluten in the flour, which gives the bread its texture. Put the dough on a floured surface. Stretch the dough with the heel of your hand and then fold it back on itself. Rotate the dough 90 degrees and repeat. Knead the dough for about 6-8 minutes, or until the dough appears smooth and elastic. You will definitely notice a change in texture from when you started. Do not over-knead the dough, otherwise it will become too tough. If you want some visual instructions, this is a great video to watch.
I wasn't quite sure where to place the bowl of dough to let it rise. I wanted to find a warm place (otherwise it could take forever for it to double). I turned my oven on and set the bowl of dough near the oven. The heat from the oven made that area of my kitchen pretty warm and it only took about 1.5 hours for my dough to double!
3. Punch dough down. Turn onto a lightly floured surface. Roll into a 16-in. x 10-in. rectangle. Combine cinnamon and remaining sugar; sprinkle over dough to within 1/2 in. of edges. Roll up jelly-roll style, starting with a long side; pinch seam to seal. Place seam side down on a greased baking sheet; pinch ends together to form a ring. Cover and let rise until doubled, about 1 hour. Brush with egg.
To punch down the dough you literally give it a few punches. The purpose for punching the dough down is to remove any big air pockets that have formed in the dough. It also helps to create an even texture in the bread and redistribute the nutrients for the yeast.
4. Bake at 375° for 25-30 minutes or until golden brown. Cool completely on a wire rack. For glaze, combine the confectioners' sugar, lemon juice and enough water to achieve desired consistency. Spread over cake. Sprinkle with colored sugars.