Today is a disgusting, dreary, cloudy, rainy day. What better pick-me-up than to make cheery, yellow, happy lemon bars? The recipe is simple and I had all of the ingredients I needed (I love it when that happens).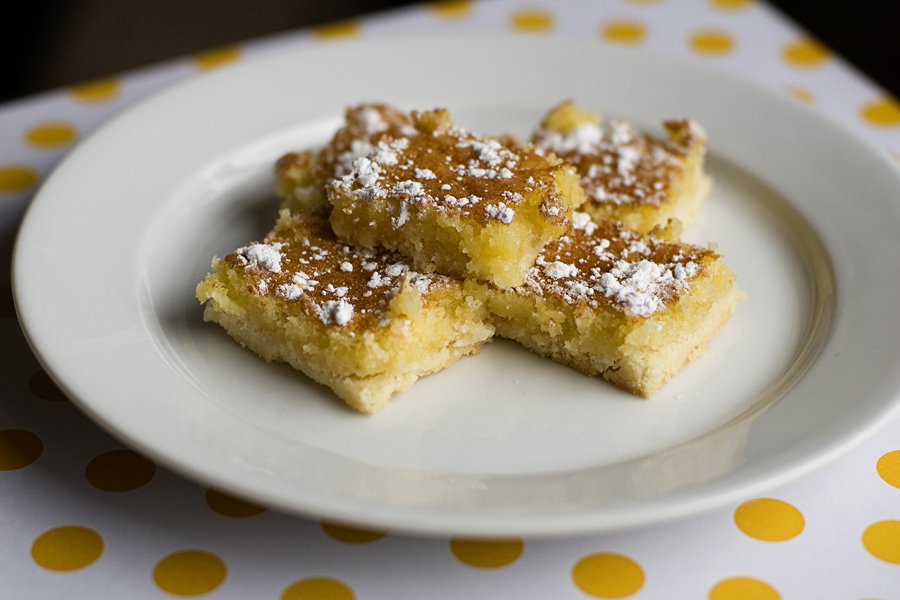 Lemon Bars
Print Recipe
1 cup flour
1/4 cup powdered sugar
1/2 cup butter at room temperature
— Sift the flour and sugar. Cream the butter and slowly blend in the flour/sugar mixture. Flatten into a 9×9 pan and bake for 15 minutes at 350F
2 eggs
1 cup sugar
1/4 teaspoon salt
— Beat the eggs. Add the sugar and salt. Beat until light and lemon-colored.
2 tablespoons flour
1/2 teaspoon powdered sugar
3 tablespoons fresh lemon juice
— Mix together. Fold into the egg mixture. Pour over crust and bake for 20-25 minutes at 350F.
Sprinkle with powdered sugar while still hot. Cool and cut into bars.